Press release
Flood heroes: Environment Agency staff invited to 10 Downing Street
Two Environment Agency workers who rescued an elderly man from flood water were among those thanked by Prime Minister David Cameron.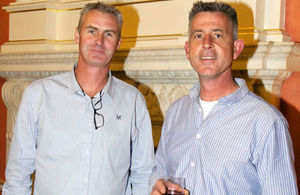 Two men who rescued an elderly gentleman trapped in his home by floodwater were invited to another man's home as reward – 10 Downing Street.
Glyn Bowey and Dan Langdon, Environment Agency staff from the Bradney depot in Bridgwater, were invited to Prime Minister David Cameron's Flood Heroes event on Monday 21 March.
The pair, along with many other people in both voluntary or professional capacities, were invited to the celebration for their actions during winter flooding in the north of the country at the end of last year.
Glyn, 47, and Dan, 42, of Taunton, responded to a call for help in Kendal a week before Christmas. They were routinely checking abandoned homes on the edge of the village of Levens when they found someone trapped inside his bungalow.
A 76-year-old pensioner, who identified himself only as Noel, had not left his home despite water rising to 4ft outside. The Environment Agency staff grew concerned as he was without heating or electricity.
Only the living room remained free of water in the bungalow, and rodents were beginning to take shelter from the flood water.
By enlisting the aid of a resident from Levens, who was stunned to hear the bungalow was still occupied, Noel was persuaded to leave with the men. Dan lent the gentleman his waders to keep him dry while Glyn fetched their 4x4. Dan then walked ahead of the vehicle, constantly testing the water depth, until the party arrived at Levens where they were greeted with a cheer.
Sir James Bevan, the Environment Agency's chief executive, travelled to Somerset shortly afterwards and met Glyn and Dan. All 3 were at the Number 10 reception.
Glyn, of Hemyock, said:
We had a great time and were well looked after. It was nice to get past the famous front door.
Notes to editors
Floods destroy. Be prepared. Find out if you are at risk and sign up for early flood warnings or call Floodline on 0345 988 1188.
Published 5 April 2016