Press release
Flood exercise - while you were sleeping
The Environment Agency has been out practicing its emergency response to high tides in Kings Lynn this morning (13 August 2014) to ensure staff are familiar with emergency procedures to prevent the town flooding.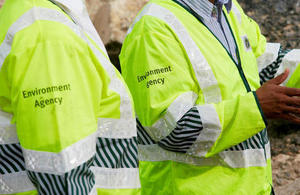 Environment Agency forecasting teams monitored weather forecasts ahead of this week's predicted high tides to assess the possibility of a surge tide. Fortunately, despite the tail end of Hurricane Bertha hitting earlier this week, the weather conditions have been favourable and these spring tides don't present a real risk.
In line with agreed procedures, the Environment Agency had already taken some precautionary steps earlier in the week ahead of the high tides, by installing dam boards at Ouse House and by lifting the bench seats at Kings Staithe Square.
Alan Daniels, Environment Agency Operations Team Leader for Kings Lynn, said:
Having seen the forecast for the morning's tide yesterday and despite this now coming in under the predicted level and our normal trigger level for response on the ground, we decided to take the opportunity to exercise our staff.

The exercise went well. While most people were sleeping we opened our Kings Lynn incident room at 02:50 to oversee the activity. Our teams were in town by 05:50 closing all flood gates, where access was nonessential, ahead of high water which was expected at 08:48.

Our Coastal Patrol did have to wake 5 sleeping teenagers who were camping on the beach at Hunstanton – rather us wake them at 6am than the waves a few hours later. The boys were all happy to vacate, once we'd explained the situation and advised them that future camping excursions would be more successful if they had a better understanding of the local tides.
This week's tides are known as spring tides. These occur around the new and full moon when the gravitational pull of the moon is stronger. If a Spring tide is accompanied by low pressure and strong winds a surge can be created where low pressure sucks the surface of the water up and causes a tide to come in higher.
Kings Lynn's flood defences were severely tested on 5 December when these conditions last occurred causing the East Coast Tidal Surge. Kings Lynn experienced its highest sea levels in recent history exceeding both 1953 and 1978 levels.
Published 13 August 2014