Press release
Flood defence repair work completed on Chesil Beach
Emergency flood defence repair work to damage caused this year by a succession of winters storms on Chesil Beach in Portland, Dorset, will be completed on 2 October 2014 by the Environment Agency and Weymouth & Portland Borough Council.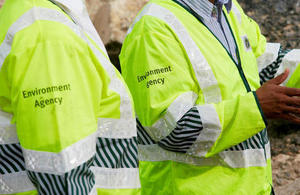 The storms caused significant damage and cumulative impacts to the system of beach defences at Chesil Cove and the two organisations have been working together to repair the damage caused.
The sea wall, Gabion Castle, gabion crest protection mattresses and the Monsoon Drain have all been repaired and there has been extensive re-profiling of the shingle beach to reinstate protection.
The Environment Agency continues to survey and gather data to inform future beach management and emergency response.
Representatives from the media are invited to come along and see the repairs at 11am on 2 October and witness a siren demonstration. The meeting point is the top of Brandy Row, Portland, near the beach promenade.
Neil Watson for the Environment Agency said:
Chesil beach took a pounding during the coastal storms last winter, and 150,000 cubic metres of shingle was lost from the beach that protects Chiswell. We have been busy ever since, initially replenishing lost shingle and more recently, repairing the gabion castle and crest protection mattresses. This work provides key protection to the community of Chiswell and the road connecting Portland to Weymouth.
We have worked closely with partners including framework contractors, other risk management authorities, emergency responders and the military. We have delivered value for money on the repairs by working closely with Weymouth and Portland Council and by using the same contractor.
The bulk of the work has been completed although the handrail on the gabion castle needs to be fitted and the last section of the monsoon drain has still to be constructed.
The Agency will also hold a siren test on the same day, October 2, between 11-12pm to ensure it is prepared for any future winter storms. This will also help test the community and personal flood plans.
Cllr Ian Roebuck, Briefholder for Environment and Sustainability at Weymouth & Portland Borough Council, said:
It is very positive news for residents on Portland that the programme to repair the sea defences at Chesil Beach has been completed. I would like to pay tribute to the Environment Agency and our engineering team for their excellent work.
We must recognise that it is very likely that we will have more frequent occasions of severe weather to test the defences in the future. As a result, joint working with the Environment Agency will be essential if we are going to be able to continue to offer protection to the many homes and businesses in the Chesil Cove area. Our success under this recent battering is a very positive precedent for our ongoing policies.
Published 1 October 2014