Press release
Flood advice at Hebden Bridge's Watermark Centre
Find out about the Environment Agency's flood recovery and flood alleviation plans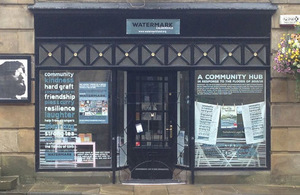 Hebden Bridge residents and businesses can find out the latest on the Environment Agency's flood recovery and flood alleviation scheme plans at a community hub in the town.
The Environment Agency will be at Hebden Bridge's Watermark Centre every Thursday, 10am until 3pm to answer any flood-related queries.
They will be on hand to provide information about the Hebden Bridge and Mytholmroyd flood alleviation schemes.
The Watermark Centre is a community hub and flood fund, and can be found next to the Picture House in Hebden Bridge on New Road.
Thomasin Meadley, of the Environment Agency, said:
We hope as many people as possible come and share their opinions with us and find out about our flood recovery plans.
We continue to urge people to sign up to our free flood warning service. Residents and businesses can check to see if free flood warnings are available in your community and sign up by calling Floodline on 0345 988 1188 or by visiting the GOV.UK website.
The Environment Agency also has a flood information centre at Mytholmoyd, open Monday 10am-4pm, Wednesday 1pm-7pm and Friday 10am-4pm.
All the latest flood information for Calderdale, including updates on information centre opening times, can be found at the Eye on Calderdale website.
As well as checking flood risk, residents can also find out what action can be taken to protect personal safety and property by visiting the Environment Agency website.
Published 16 August 2016