World news story
Fletcher: We will face terrorism together
UK is determined to help Lebanon fight terrorism, help refugees live in dignity & give Lebanese youth the education they deserve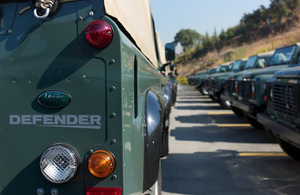 British Ambassador to Lebanon Tom Fletcher met this morning with Prime Minister Tammam Salam at the Grand Serail.
Following his meeting with Prime Minister Tammam Salam, Ambassador Tom Fletcher said:
I have just updated Prime Minister Salam on a further expansion of Britain's support to Lebanon's resilience. I passed on my condolences for the loss of Lebanese security personnel at the hands of terrorists.
Lebanon is facing grave dangers, including from Daesh, and are determined that, as Great Britain, we will be on your side.
This is about action not words. As part of the UK/Lebanon stability package, we have already increased tenfold the support we give to the Lebanese army. We understand the threats that they face on the Syrian border. So, we will train and equip a Third Land Border Regiment. We hope this will allow Lebanon to take full control of its borders, and keep the war out.
Secondly, we recognise that the battle against extremism cannot be won by force alone. So we will create job opportunities and help municipalities to deliver better services. We will continue with our biggest-ever humanitarian effort to help refugees from Syria live with dignity and prepare to go home to rebuild their country again. This is the second year that we are providing text books in all of Lebanon's state schools, reaching over 300,000 pupils. We will now go further, providing over 50m USD for education in Lebanon. Over 30m of this will go through the World Bank Trust Fund. We believe in Lebanon's potential. And we are determined to help hardworking families across the country give Lebanese youth the education they need to build the Lebanon they deserve.
We also discussed the Presidential vacuum. We long to have a President to work with. It pains me to drive past Baabda Palace and know that it is empty. But it should pain the Lebanese people too. Because every day without a President is a missed opportunity. Every day of vacancy is a day when the forces destabilising the country become stronger. Every day without a Presidential voice makes it harder for us to help Lebanon.
We must not underestimate the challenges facing Lebanon. We must not underestimate the courage required to meet them. We will stand beside the Lebanese state to show terrorists that they will find no haven here. Daesh is a threat to all of us. Let's face it together.
No-one should ever underestimate the resilience of the Lebanese people. Nor the commitment of Lebanon's allies.'
Notes to Editors:
The UK has so far committed over £700m to the Syria crisis, out of which £131m is for Lebanon.
The new UK support announced by the International Development Secretary in New York includes:

support for the Lebanese Government's 'Reaching All Children with Education' scheme to expand the public education system (£20 million);
outreach education for refugees in Lebanon who are not able to attend school (£11 million);

Our practical support for Lebanon's stability has increased tenfold over the past two years. This includes over $23m 'train and equip' programme to strengthen the Land Border Regiments of the Lebanese Armed Forces.
Published 8 October 2014