Press release
Five new members appointed to the board of the British Transport Police Authority
The British Transport Police Authority has announced 5 new members.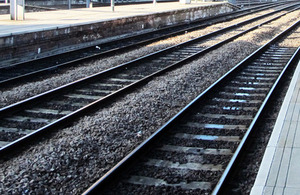 The appointment of 5 new board members to the British Transport Police Authority (BTPA) was announced by Transport Minister Simon Burns today (29 July 2013), strengthening the effectiveness of the authority.
The new board members will take up their appointments from September for an initial term of 4 years, representing the interests of railway service providers, those travelling by rail and passengers in Wales.
The BTPA was established in 2004 to enhance the public accountability of the British Transport Police, by setting its targets and allocating funding for its budget.
Rail Minister Simon Burns said:
The calibre of these new appointments is extremely high and I look forward to seeing them bolster the work of the authority, particularly when representing those rail passengers.
Stella Thomas, who will represent the interests of passengers in Wales, is currently co-opted by the Welsh government Transport Minister to the Public Transport Users Committee for Wales. She is an experienced rail passenger representative and professional bilingual (English and Welsh) trainer in customer service.
Catherine Crawford, who will represent the interests of those travelling by rail, is a former Chief Executive of the Metropolitan Police Authority, a post she held for 10 years. She is currently retired and has over 12 years experience in the transport industry.
Andrew Pollins, Dominic Booth and Mark Phillips will represent the interests of service providers. Andrew has several years of experience in the transport industry and is currently the Director of Finance for London Underground and rail.
Dominic has been the Managing Director of Abellio Transportation Group since 2007 and has several years of experience in the transport industry. He has fulfilled several roles as Chairman and Managing Director at a number of train companies and possesses a successful track record in both public and private sector environments.
Mark is currently the Bid Director for National Express's Crossrail bid. He has 26 years experience in the rail industry including being a Deputy Managing Director and Operations Director for National Express East Anglia.
Notes to editors
All members of the BTPA board are appointed in accordance with the code of practice issued by the Office of the Commission for Public Appointments.
Each new member has been appointed for a 4 year term from 1 September 2013. Remuneration will be £15,750 for a time commitment of 30 days a year.
All appointments are made on merit and political activity plays no part in the selection process. However, in accordance with the original Nolan recommendations, there is a requirement for appointees' political activity (if any declared) to be made public.
Further information about BTPA board members, including details about other public appointments held and any declared political activity, is available on the British Transport Police Authority's website.
Additional biographical details
Stella Thomas
Stella Thomas has recently served on the board of Passenger Focus (May 2006 to April 2013) as national member for Wales, appointed by the Welsh government. During this 7 year period she gained a great deal of knowledge about the rail and bus industry throughout Britain. Her special focus was on the the needs of rail passengers in Wales. She worked closely with all the train companies serving Welsh passengers, as well as key partners such as the BTP and Network Rail.
Mrs Thomas was formerly Head of the Independent Television Commission (ITC) for Wales and the West of England, a position she held for 12 years, until the ITC became absorbed into Ofcom, the new independent regulator and competition authority for the UK communications industries. Prior to bcoming a television regulator, Mrs Thomas held senior positions in HTV Wales (now ITV Wales) and the Wales Tourist Board (now Visit Wales). She began her career as a teacher, near Brecon in Powys.
Mrs Thomas' experience at board level has included 10 years on the Millennium Stadium Board, 3 years on the board of Sport Wales and three years on the Wales council of Save the Children. Her current part-time activities in Wales include training in the hospitality and tourism sectors.
Mrs Thomas holds no other public appointments and has never been active in politics.
Catherine Crawford
Catherine Crawford OBE was a civil servant in the Home Office for much of her career, working on policy development and implementation in the Criminal, Personnel, Prison and Police Departments for over 25 years. She then became the Executive Director of the newly formed Association of Police Authorities and subsequently the first Chief Executive of the Metropolitan Police Authority, a post which she held for 12 years until the authority was abolished in January 2012, when she became Chief Executive of the Mayor's Office for Policing and Crime for a transitional period. In addition to her extensive knowledge and understanding of policing and the governance of policing she is a regular and frequent traveller on the rail network and commuted by train from Cambridge to London throughout her career.
Mrs Crawford holds no other public appointments and has never been active in politics.
Andrew Pollins
Andrew Pollins joined Transport for London as the Finance Director of London Underground in April 2010 and since then his role has expanded to cover TfL's other rail operations, including London Overground, Docklands Light Railway and London Tramlink. He oversees the financial management of some of the largest capital programmes in the country as well as the income and expenditure of the Tube which now carries more than 1 billion passengers every year; he is also a Trustee of the TfL pension fund.
During the run up to and during the period of the London 2012 Games he was the Director sponsor for TfL's very successful Travel Ambassador Programme which saw thousands of TfL staff take on additional responsibilities to support the successful transport plan for the Games.
He was previously the CFO at National Car Parks and also worked for 15 years at Whitbread Plc and Marriott in a number of financial and operational roles.
Mr Pollins holds no other public appointments and has never been active in politics.
Dominic Booth
Dominic Booth joined Abellio Group as a main board member in January 2007. Over the next 5 years, he played a prominent part in Abellio's development, and in 2012 was appointed to the newly created post of Managing Director UK, after winning the Greater Anglia rail franchise. In this role, he is responsible for all Abellio's business in the UK. He chairs the operating boards of the Abellio London and Surrey bus company and the Merseyrail, Northern Rail and Greater Anglia train operating companies.
Prior to joining Abellio, he had a fast track management career in the UK rail industry. At British Rail, he was involved in creating shadow franchises prior to privatisation, and subsequently headed up the operations team at Connex Transport's South Eastern and South Central franchises. He left Connex to become Managing Director of the Wales and West franchise. When Prism was acquired by National Express Group, he became managing director of London Lines where he ran 3 commuter train operators. He was promoted to Deputy Chief Executive of National Express's trains division before leaving to join Abellio.
Mr Booth holds no other public appointments and has never been active in politics.
Mark Phillips
Mark Phillips studied economics at York University and joined British Rail Western Region in 1986 in Swindon. In 1993 he worked on the privatisation of Trainload Freight based in London and joined the newly formed Railtrack in 1994 - working in Manchester. In 1997 he retuned to London as Head of Operational Planning for Railtrack. In 1999 he moved to the Anglia Zone as Route Production Manager and was appointed Zone Director in 1993. On the amalgamation of three TOCs to form one of the new enlarged train operating companies he was appointed Operations Director and Deputy Managing Director for National Express East Anglia in 1994. In 2012 he joined National Express' Business Development Team and is currently Bid Director for a current franchise competition.
Mr Phillips holds no other public appointments and has never been active in politics.
Published 29 July 2013