Five Fold Increase of Chevening Scholarship Awards to Zimbabwe
The United Kingdom has increased Chevening Scholarship awards to Zimbabwe from four to twenty scholarships for the 2015/16 study period.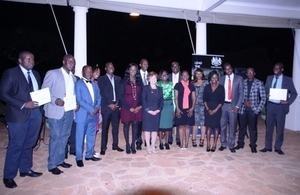 UK Ambassador to Zimbabwe Her Excellency Catriona Laing described the increase as part of confidence building measures with Zimbabwe.
Speaking at the send-off reception Ambassador Catriona Laing said:
This scholarship programme is a demonstration of UK's commitment to Zimbabwe's human resource and to its future. In offering this prestigious scholarship, the UK is playing a role in ensuring that Zimbabweans have the skills and knowledge to contribute to their country's development.
The Chevening Scholarships are awarded to individuals with strong academic backgrounds who also have demonstrable leadership potential. The scholarship offers financial support to study for a taught Master's degree at any of the UK's leading universities and the opportunity to become part of an influential global network of 44 000 alumni.
The twenty scholars who have been awarded scholarships are:
| | | |
| --- | --- | --- |
| Aldrin Chari | University of Kent | MSc Applied Actuarial Science |
| Angela Jimu | University of Westminster | MA Media Management |
| Blessing Gorejena | University of Westminster | LLM International Law |
| Zenzo Sibanda | University of Sussex | MSc Sustainable International Development |
| Mandy Gaihai | London School of Health and Tropical Medicine | MSc Public Health |
| Claudios Muserere | London School of Health and Tropical Medicine | MSc Public Health |
| Pedzisai Nemadziba | Royal Agriculture University | Sustainable Agriculture |
| Tariro Muzorori | University of Sussex | MSc Engineering Business Managment |
| Innocent Muleya | London School of Health and Tropical Medicine | MSc Tropical Medicine |
| Mfundo Mlilo | London School of Economics | MSc Regional and Urban Planning |
| Samson Zimuto | Leeds Beckett University | MSc Financial Economics |
| Philip Dhauti | University of Sheffield | MA International Development |
| Simbarashe Magege | University of Manchester | MSc Advanced Chemical Engineering |
| Grant Murewanhema | University of Glagow | MPH Public Health |
| Gilfern Moyo | University of Hull | MBA Business Administration |
| Martin Chakawa | University of Leeds | MSc Business Analytics |
| Sibusisiwe Ndlovu | University of Westminster | MA Multi Media Journalism |
| Norman Matara | University of Leeds | MPH Public Health |
| Tafadzwa Machirori | University of Leeds | MSc Global Innovation |
| Corra Magiya | University of Birmingham | MSc Development Management |
These Chevening Scholars are expected to return to Zimbabwe on completion of their qualification to make a meaningful contribution to developing the country and become part of the global Chevening Alumni.
The success of the Chevening scholarship in Zimbabwe is evident with former scholars now in places of influence include George Charamba – Presidential spokesperson, Honourable Supa Mandiwanzira – ICT Minister, Barclays Zimbabwe CEO - George Guvamatanga, Human Rights Lawyer – Chris Mhike, Rapheal Chikukwa – Chief Curator Gallery of Zimbabwe among many other leaders in Government, Private Sector and Civil Society.
The Chevening Secretariat is now accepting applications for the 2016/17 period of study via the Chevening website until 3rd November 2015.
There are approximately 1500 Chevening scholarships on offer globally for the 2016/17 academic cycle. These scholarships represent a significant investment from the UK Government to develop the next cohort of global leaders.
Britain has four of the top six universities in the world, and boasts of world class teaching and research in every field. British Universities welcome many international students and many Zimbabweans, both with and without scholarship support.
More Information
Visit Chevening Frequently Asked Questions page for detailed information on the eligibility criteria and award specifications.
Notes to Editors
Chevening Scholarships are the UK Government's global scholarship programmed, funded by the Foreign and Commonwealth Office (FCO) and partner organisations. The scholarships support study at UK universities – mostly one year Master's degrees – for individuals with demonstrable potential to become future leaders, decision makers and opinion formers.
Chevening began in 1983 and has developed into a prestigious international awards scheme. Chevening Scholars come from over 160 countries and territories worldwide (excluding the USA and EU), and over 1500 scholarships were awarded in 2015/16. There are over 44 000 Chevening Alumni around the world who comprise an influential and highly regarded global network.
The name Chevening comes from Chevening House in Sevenoaks, Kent – currently the joint official residence of the UK's Foreign Secretary.
More information is available at the Chevening website
Published 28 August 2015