Press release
Fishy activities reeled in by enforcement team
Environment Agency enforcement officers have been patrolling for illegal fishing activities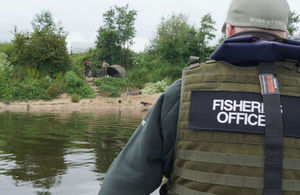 Fisheries Enforcement Officers have had a busy week patrolling the river banks from Scunthorpe to Leicestershire.
The Environment Agency staff who are funded by rod licence income have identified 4 cases of fish poaching, removed 3 illegal nets and confiscated a number of fishing rods and other equipment from the illegal anglers. They intercepted the removal of eels perch, chub and bream being taken away from the Rivers Torne, Trent and Soar and 5 individuals will face appropriate enforcement action.
Peter Haslock, Enforcement Team Leader at the Environment Agency, said:
We take illegal fishing and illegal fish movements very seriously. Anyone fishing illegally can expect to be prosecuted and face a substantial fine.

Our officers are out and about on the river banks on a daily basis, responding to reports of illegal activity and checking fishing licences.

Illegal fishing can harm fish stocks and avoiding the licence fee means less money is spent protecting our rivers and improving facilities for anglers.
Information on getting into angling is freely available on the internet and information about rod licences and byelaws can be found on the Environment Agency website. Anyone who witnesses or has information regarding illegal fishing is encouraged to report it through the Environment Agency's Incident Hotline on 0800 80 70 60.
Anyone fishing illegally can expect to be prosecuted and face a fine of up to £2,500 and up to £50,000 for byelaw offences. Last year, the Environment Agency checked over 62,000 rod licences and prosecuted more than 1,900 anglers for rod and line offences resulting in fines and costs in excess of £500,000.
Fishing is great value for money at just £27 for an annual licence, and concessions available. Buying a rod licence is quick and easy - you can buy them online at the Post Office, at your local Post Office branch or by phoning 0344 800 5386.
All rod licence income is used to fund work to protect and improve fish stocks and fisheries. Our work includes responding to fish kills and, where we can, rescuing fish; improving habitats for fish and facilities for anglers, protecting stocks from illegal fishing, plus fish restocking, invasive species eradication, and working with partners to encourage people to take-up fishing for the first time.
Published 27 September 2016