Press release
Fish population boost for Kent
Fish populations across Kent have been boosted thanks to an Environment Agency re-stocking project.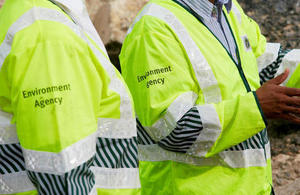 Environment Agency fisheries officers restocked over 7,000 fish, including dace, chub, roach, and barbel, in the River Medway near Barming and the Greater Stour near Ashford.
6,000 of the fish were added to the Greater Stour to boost the population after a significant fish kill. The fish came from the Environment Agency's fish farm in Calverton, which is funded by rod licensing.
Around 1,000 barbel and chub were added to the River Medway near Barming for scientific reasons. The Medway fish were tagged with a blue dye which will allow the Environment Agency to monitor their progress. Anglers in the area can send information to Environment Agency when they catch the fish and help determine how best to protect fish populations in future.
Joe Kitanosono, Environment Agency fisheries officer said:
It's great that we have been able to restock fish in Kent. The restocking of fish in the Stour will hopefully kick start the fish population following the devastating effects of a pollution incident. By using a blue marking system on the fish at Barming we are able to track the progress of fishes and focus habitat alterations where appropriate.
All income from rod licence sales is used to fund our work to protect and improve fish stocks and fisheries. This includes improving habitats for fish and facilities for anglers, tackling illegal fishing and working with partners to encourage people to give fishing a go.
You can follow Joe on Twitter @JoeFishingEA
All media enquiries 0800 141 2743
Published 22 December 2015