News story
First World War Christmas Truce football match commemorated
Premier League donates artificial pitch to the Belgian city of Ypres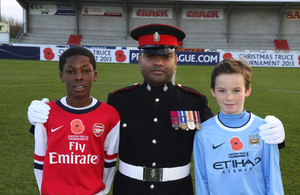 As part of the First World War centenary commemorations, the English Premier League has pledged to build a floodlit third generation artificial pitch in the Belgian city of Ypres.
The Premier League has signed a Memorandum of Understanding with both the City of Ypres and the city's biggest team, KVK Westhoek. The Premier League has announced that they will seek to build the all-weather pitch by November 2014 to mark next year's anniversary of the Christmas Truce.
The Premier League has been running the Christmas Truce Tournament since 2011, bringing together Under 12 teams from England, Belgium, France and Germany.
The tournament honours a unique piece of history and one of the most famous moments of the First World War, the Christmas Truce, where British and German footballers stopped fighting each other on Christmas Day 1914 and played football in no-man's land.
The Premier League will also host a major international Christmas Truce Tournament in December 2014 to inaugurate the new pitch and mark the Truce centenary.
The League also aims for the facility to be available to other relevant football and sporting organisations throughout Europe to come and enjoy it in a spirit of peace and reconciliation, especially for young people visiting the First World War battlefields.
Lance Corporal Johnson Beharry, who in 2005 became the first living recipient of the Victoria Cross for valour in over 30 years, announced the pitch was to be built.
He said:
The Christmas Truce Tournament is a wonderful way of bringing history to life. By coming here to the City of Ypres and seeing the names of the 54,896 British and Commonwealth soldiers on the Menin Gate, many of them footballers, they can appreciate the scale of war.
But Ypres, being the site of the Christmas Truce, is also a place where they can understand how sport can bring out the humanity in people. It's a very noble gesture by the Premier League to build a pitch here and ensure that thousands of young people can come and continue to remember the courage and sacrifices of those from the armed forces.
UK Sports Minister Helen Grant, who is also minister for the First World War Centenary said:
Sport in general, and especially football, is a brilliant way to bring people from all backgrounds together. As we count down to the start of our WW1 commemorations, the Premier League's initiative will use football to help forge lasting links and bonds of friendship as we come together to remember, and I warmly commend the Premier League for their imagination, generosity and determination in making it happen.
Further information
Published 9 December 2013