Press release
First start-up loans for young Northern Irish entrepreneurs this summer
The first Start-Up Loans to young Northern Irish entrepreneurs will be made this summer, Business Secretary Vince Cable announced today.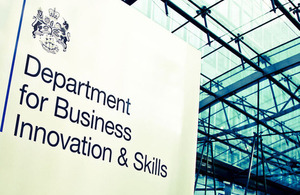 The first Start-Up Loans to young Northern Irish entrepreneurs with good business ideas will be made this summer, Business Secretary Vince Cable announced today.
Budding entrepreneurs aged between 18 and 30 will have access to the £117 million Start-Up Loans fund which has been successfully piloted in England.
Loans will be made available through delivery partners, with The Prince's Trust and the School for Start-Ups already confirmed and agreement expected shortly with Enterprise Northern Ireland and the Ulster Community Investment Trust.
Vince Cable said:
Northern Ireland has one of the youngest populations in Europe so it's vital we encourage young people to back themselves to succeed. This welcomed extension will encourage even more young people to be entrepreneurial with access to finance, as well as professional mentors who can offer knowledge and expertise about how to run a successful enterprise.
The Start-up Loan scheme has gone from strength to strength during its pilot in England with 5,000 loans worth £26m already committed. The lack of an established credit history is a barrier for young people looking to access business finance. I hope Start-Up Loans will help many budding entrepreneurs in Northern Ireland.
Notes to editors
1.The Start-Up Loans programme was created by Lord Young of Graffham to boost enterprise amongst young people and bolster job prospects. It provides pre-business advice and mentoring that would not normally be available to young entrepreneurs, along with financial support to that would not normally be available via traditional banking relationships.
Start-Up Loans aim to:
Foster a culture of entrepreneurship;
Support applicants to create and develop their business;
Give a boost to UK economic growth through supporting the development of new businesses; and
Build-in success for new ventures through the provision of expert advice and support.
2.The scheme is overseen by the Start-Up Loans Company Ltd, chaired by James Caan, with board members and advisors who are successful entrepreneurs in their own right.
3.Since it started in England in autumn 2012, the Start Up Loans scheme has already committed over £26m in loans and £4m in support to help over 5,000 people aged 18 to 30 set up businesses, almost half of whom were previously unemployed.
4.The government recently accepted Lord Young's recommendation to lift the age cap. The scheme will be similarly extended in Northern Ireland.
5.Youth charity The Prince's Trust helps disadvantaged young people to get their lives on track. It supports 13 to 30 year-olds who are unemployed and those struggling at school and at risk of exclusion. Many of the young people helped by The Prince's Trust are in or leaving care, facing issues such as homelessness or mental health problems, or they have been in trouble with the law. The Trust's programmes give vulnerable young people the practical and financial support needed to stabilise their lives, helping develop self-esteem and skills for work. Three in four young people supported by The Prince's Trust move into work, education or training. The Prince of Wales's charity has helped more than 700,000 young people since 1976 and supports 100 more each day.
6.School for Startups is the inspiration of serial entrepreneur and angel investor Doug Richard. It delivers targeted programmes that teach people how to start and run better businesses. The organisation has also designed and delivered targeted courses that foster entrepreneurship in a region, within a disadvantaged population or for groups with very specific instructional requirements. These programmes ensure that entrepreneurs become part of supportive, self-sustaining communities. School for Startups' overarching mission is to foster economic development and innovation by training entrepreneurs and supporting young businesses worldwide. School for Startups have trained more than 12,000 entrepreneurs and supported thousands more through online events and instructional videos.
7.Enterprise Northern Ireland (ENI) is the membership organisation for the local enterprise agency network in Northern Ireland. Local enterprise agencies are independent NFP businesses which work in partnership with statutory stakeholders to support local business and economic development. ENI currently administers two small business loan funds in Northern Ireland; The ENI Loan Fund and the Northern Ireland Small Business Loan Fund.
8.Ulster Community Investment Trust Ltd (UCIT) was established in 1995 and is the key provider of social finance, free advice, business support and mentoring to the social economy sector in Northern Ireland and the Republic of Ireland. It is a registered charity with all profits recycled for reinvestment into the community and social enterprise sector. The UCIT Loan Fund has assisted over 240 community organisations, charities and social enterprises in Northern Ireland and the Republic of Ireland through providing social finance totalling in excess of £30m. UCIT has in excess of £14.5 million in capital under management, which is supporting local job creation, community engagement and economic development in areas of ROI and almost every city, town and village in NI. Ulster Community Investment plc (UCI), a subsidiary of UCIT is authorised by the Financial Conduct Authority (FCA) and can operate as a FCA regulated 'Fund Manager'. UCI has been appointed to deliver a new £5m Northern Ireland based Small Business Loan Fund as part of Invest Northern Ireland's Access to Finance Strategy.
9.The government's economic policy objective is to achieve 'strong, sustainable and balanced growth that is more evenly shared across the country and between industries'. It set four ambitions in the 'Plan for Growth' (PDF 1.7MB), published at Budget 2011:
to create the most competitive tax system in the G20
to make the UK the best place in Europe to start, finance and grow a business
to encourage investment and exports as a route to a more balanced economy
to create a more educated workforce that is the most flexible in Europe.
Work is underway across government to achieve these ambitions, including progress on more than 250 measures as part of the Growth Review. Developing an Industrial Strategy gives new impetus to this work by providing businesses, investors and the public with more clarity about the long-term direction in which the government wants the economy to travel.
Published 24 June 2013