News story
First round of bidding for regional growth fund comes to a close
The fund is designed to encourage enterprise, growth and jobs in the private sector and support regions that are dependent on the public sector…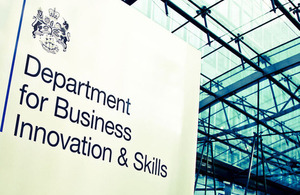 The fund is designed to encourage enterprise, growth and jobs in the private sector and support regions that are dependent on the public sector.
The bids will now be assessed by the Independent Advisory Panel, chaired by Lord Heseltine. Once the panel has assessed the bids, they will advise a panel of ministers chaired by Deputy Prime Minister Nick Clegg.
The Deputy Prime Minister said:
"It is vital to support growth across the country by decentralising power to local areas to promote growth, and investing to support the transition to private sector recovery.
"There are clearly lots of good ideas out there on how to create jobs and growth and I look forward to reviewing the bids we have received - nearly 450 - for the first round of the Regional Growth Fund."
Lord Heseltine said:
"The level of response this fund has had shows how innovative and enterprising people can be when they are not given a strict set of criteria to adhere to. We purposely did not tell them what the bids should look like, only highlighted the issues they need to address.
"My colleagues and I will now assess each bid and decide which proposals we believe will have a role in boosting the private sector and helping those adversely affected by cuts in the public sector."
Private sector organisations and public-private sector partnerships were invited to bid for a share of the £1.4bn fund. They were asked to submit bids that are match-funded.
Successful bids will be those that create sustainable jobs in areas of deprivation and areas that are dependent on jobs in the public sector.
Once the Independent Advisory Panel has assessed the bids, they will advise a panel of ministers chaired by Deputy Prime Minister Nick Clegg.
The Regional Growth Fund will run for three years and there will be a second round this year. The Department for Business, Innovation and Skills will announce the dates for the second round shortly.
Notes to editors:
The membership of the Independent Advisory Panel for the Regional Growth Fund is as follows:
Lord Heseltine, Chair

Sir Ian Wrigglesworth, Deputy Chair

Felicity Goodey (Businesswoman, former senior BBC journalist)

Tony Greenham (Programme Head, New Economics Foundation)

Richard Lambert (Director General, CBI)

Jon Moulton (Chairman, Better Capital equity group)

Caroline Plumb (Entrepreneur, Freshminds)

Sir David Rowlands (Chair of Gatwick Airport Ltd and Angel Trains Group Ltd)

Mark Seligman (Chartered Accountant and Banker, Credit Suisse)

Andrew Shilston (Finance Director, Rolls Royce)

Lord John Shipley (Former Leader Newcastle City Council)

Tony Venables (Academic Economist, Oxford University
For more information on the Regional Growth Fund please visit: http://www.bis.gov.uk/policies/regional-economic-development/regional-growth-fund

BIS' online newsroom contains the latest press notices, speeches, as well as videos and images for download. It also features an up to date list of BIS press office contacts. See [http://www.bis.gov.uk/newsroom](http://www.bis.gov.uk/newsroom) for more information.
Notes to Editors
Contact Information
Name BIS Press Office Job Title
Division COI Phone
Fax
Mobile
Email NDS.BIS@coi.gsi.gov.uk
Name Joanna Fletcher Job Title
Division Department for Business, Innovation and Skills Phone 020 7215 5951 Fax
Mobile
Published 25 January 2011