News story
First release of Foreign Office files on Nazi persecution victims
National Archives has released FCO files relating to the compensation for British victims of Nazi persecution during the Second World War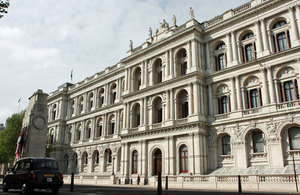 The National Archives today released the first tranche of Foreign and Commonwealth Office files relating to the compensation scheme set up for British victims of Nazi persecution during the Second World War.
These files include many applications for compensation, and as such include descriptions of the conditions endured in concentration camps including Auschwitz and Bergen-Belsen.
Commenting on the file release Sir Eric Pickles MP, the UK Special Envoy for post-Holocaust Issues said:
It is absolutely crucial that these files are opened for public access. First hand accounts of time being held in concentration camps never lose their power to shock, as well as offering us an opportunity to deepen our understanding of the depravity of Nazi persecution, and understand more about how the systems functioned.

The National Archives will release more files over the course of the next year but there is much more to do, both here in the UK and more widely. Still too many files remain hidden behind closed doors, and our understanding of Nazi persecution and the Holocaust will remain partial without total access to the full range of files from that period.
Further information
Published 31 March 2016