Press release
First postgraduate apprenticeships to start this year
Employers and training providers should seize opportunity to provide high level training says Skills Minister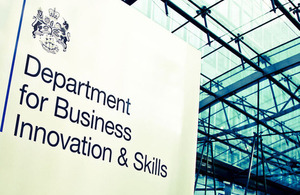 Skills Minister Matthew Hancock today welcomed the creation of the first graduate level Higher Apprenticeships in advanced manufacturing, commercial airline piloting and professional development for work based learning practitioners.
Employers including BAE Systems and British Airways expect to recruit their new graduate apprentices this year. In addition, a new framework for the first post-graduate level Higher Apprenticeship in Professional Services has been approved opening up opportunities for employers to recruit and train in accountancy, auditing and tax.
Mr Hancock called on other employers and training providers to follow suit by creating new opportunities for people to gain world-class training through Higher Apprenticeships.
Changes have been made to the standard (the Specification of Apprentices Standards for England - SASE) to include level six and seven apprenticeships – equivalent to bachelors and masters degrees. These changes will come into effect on 6 April 2013, and mean that apprenticeships can better support the development of high level technical skills necessary for growth.
Introducing higher apprenticeships will also benefit individuals who are looking for a work-based route into a profession.
A level 7 apprenticeship for the professional services sector (accountancy, auditing and tax) has been developed by PwC with partners from across the financial services sector and will be available for employers to adopt from May 2013. This is expected to be the first Higher Apprenticeship to provide a work-based development route to chartered professional status.
A level 6 apprenticeship in Advanced Manufacturing Engineering has been developed by BAE Systems and will be available from summer 2013.
A level 6 apprenticeship in Commercial Airline Piloting has been developed by Metskills and will be available from summer 2013.
A level 6 apprenticeship in Professional Development for Work Based Learning Practitioners has been developed by the University of Derby and will be available from late Spring 2013.
Skills Minister Matthew Hancock said:
Britain's prosperity depends on the high-level skills that create world-beating products and services. By creating new apprenticeships at degree level and above, the government is sending a clear signal that practical learning is a viable route to the professions.
Apprenticeships deliver and offer the ideal opportunity for ambitious young people and adults to get ahead while earning a wage - and for employers to recruit the brightest and best recruits.
Sara Caplan, partner, PwC said:
Access to career opportunities in professional services has been transformed by Higher Apprenticeship development. It levels the playing field for employers of all sizes, and recruits, to build business skills that are vital to supporting UK and growth, and stay with you for a lifetime.
Other sectors, including nursing, healthcare, life-sciences, civil engineering, construction operations management and actuaries have expressed interest in developing apprenticeships at postgraduate level.
Nick Skeet, Employer Relationship Director, Skills for Justice, which today launched a degree-level Higher Apprenticeship in Legal Services, said:
The launch of the level 4 Higher Apprenticeship may be just the start for the legal services sector. Working hand in hand with employers and key stakeholders from the sector, we are exploring ways in which an entire pathway of apprenticeships will enable a richer mix of people to get in and get on with a career in law.
It is not beyond the realms of possibility that there could eventually be a vocational route to becoming a solicitor. We await the final recommendations of the regulators' Legal Education Training Review with interest and stand ready to work with all stakeholders on shaping future recognised routes into this exciting profession.
As part of its commitment to make vocational learning an attractive alternative to the traditional higher education route, the government's £25m Higher Apprenticeship Fund has been a catalyst to this expansion of apprenticeships and is set to help create over 20,000 Higher Apprenticeships starts by 2015.
Notes to editors
1.Under this government, Apprenticeship starts have increased at a record rate. Provisional data [1] show that there were 502,500 Apprenticeship starts in the full 2011/12 academic year.
2.Those with an Advanced Apprenticeship (equivalent to A-level) earn on average between £77,000 and £117,000 [2] more over their lifetime compared to similar individuals with Level 2 qualifications.
3.A National Audit Office Report, published February 2012, demonstrates the very high level of return to investment delivered by the Apprenticeship programme, indicating that adult Apprenticeships deliver £18 of economic benefits for each pound of government investment. BIS estimates that these returns are even higher, at £28 for each pound of government investment.
4.In total, over 100,000 employers are offering Apprenticeships in more than 160,000 locations. There are more than 250 frameworks available in over 1,400 job roles, covering an extensive range of skills levels and occupations.
5.The government's economic policy objective is to achieve 'strong, sustainable and balanced growth that is more evenly shared across the country and between industries'. It set four ambitions in the 'Plan for Growth' (PDF 1.7MB), published at Budget 2011:
to create the most competitive tax system in the G20
to make the UK the best place in Europe to start, finance and grow a business
to encourage investment and exports as a route to a more balanced economy
to create a more educated workforce that is the most flexible in Europe.
Work is underway across government to achieve these ambitions, including progress on more than 250 measures as part of the Growth Review. Developing an Industrial Strategy gives new impetus to this work by providing businesses, investors and the public with more clarity about the long-term direction in which the government wants the economy to travel.
---
[1] Provisional data published for the full 2011/12 academic year (August 2011 to July 2012) provide an early view of performance and will change as further data returns are received from FE Colleges and providers. Figures for 2011/12 will be finalised in the January 2013 Statistical First Release.
[2] London Economics (2011) – 'BIS Research Paper Number 53, Returns to Intermediate and Low Level Vocational Qualifications, September 2011.'
Published 9 March 2013