Press release
First phase of flood bank work on Whittlesey Washes complete
The first phase of the Environment Agency's work to improve flood defence banks at Whittlesey Washes has been completed early.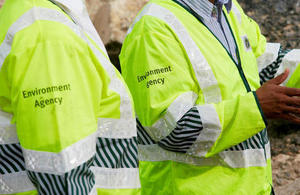 Work was carried out to strengthen a 5km section of the South Barrier Bank between Ring's End at Guyhirn and Poplar House Farm, where layers of compacted material have been placed to help prevent erosion of the banks.
Whittlesey Washes – also known as the Nene Washes – stores water from the River Nene when it is 'tide-locked'. This happens when heavy rainfall increases the flows in the river and coincides with high tides, meaning the extra water cannot be released through the Dog in a Doublet Sluice. As the tide recedes, water is released from the reservoir and into the tidal River Nene through the Ring's End Sluice.
Now the work is complete, the footpath running along the crest of the bank has been reopened to the public.
Phase one of the project was started in July 2013. It's part of a three-year, £26m Environment Agency-led scheme to strengthen a 16km stretch of the South Barrier Bank.
Guy Szomi, Environment Agency catchment engineer, said:
We're very pleased to have completed the first phase of the Whittlesey Washes bank works – this swift and efficient work with our partners means local people can get back to enjoying walking in the area while the warmer months are still upon us.

The Whittlesey Washes project will improve the condition of the South Barrier Bank so it can continue to protect hundreds of homes, roads, and railways in and around Peterborough, as well as 8,000 hectares of farmland to the south east of the city.
Phase two of the bank improvements – between Poplar House Farm and Eldernell, and from Eldernell to Bassenhally – started last summer. While this work will be finished by November, the footpath through this patch will remain diverted until next summer. This will allow the grass – which plays an integral part to the stability of the bank – to establish.
The third phase, which started in March, will see the 3km stretch of bank between Stanground and Ball Bridge in Whittlesey strengthened. A low, 249m-long concrete wall is being built between Stanground Sluice and the car park. Once this section is complete, we will be able to open the Green Wheel cycle path (route 21) earlier than originally planned.
All bank work is expected to be complete by the end of November 2015.
Published 24 July 2015