Press release
First on-line Budget ideas portal launched today by the Chancellor
During a visit to a high-tech manufacturing firm in Cheltenham, Chancellor of the Exchequer launched the new online Budget portal.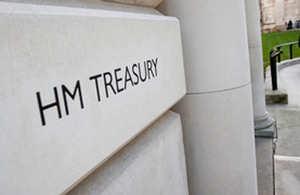 During a visit to a high-tech manufacturing firm in Cheltenham, the Chancellor of the Exchequer, George Osborne, launched the Government's new online Budget portal. The portal allows anyone to send their ideas for the Budget direct to the desks of the Treasury officials working on the Budget, which will be held on 23 March 2011. 
While visiting Ultra Electronics, the Chancellor said:
I want to hear about your brightest and best ideas. Because next month's Budget will be all about growth. In particular I want to know what businesses, large and small, want from me. Because it's British businesses like the one I'm visiting today here in Cheltenham - a British high-tech and export success story - that will lead our recovery. So go on-line and tell me what you think.
The portal is another example of the Government's commitment to transparency in policy making. It will improve the way businesses, charities and the public sector can communicate with the Government.
It follows on from the October 2010 Spending Review, when over 100,000 members of the public went on line to submit suggestions on how the Government could save money - such as the idea to stop producing National Insurance cards, which will save £1 million a year.
Notes for Editors
The online form and further guidance can be found on the Treasury's website 

It is recommended that representations are sent to HM Treasury at least 3 weeks before the Budget

An automated thank you message will appear once the form has been submitted. The Budget ideas will be sent directly to the Treasury's Budget Team, which has overall responsibility for helping the Chancellor draw up the Budget.

The Spending Review Challenge, launched in July 2010, invited public sector workers and the public to suggest money saving ideas ahead of the Spending Review, announced in October 2010. Amongst the 100,000 suggestions submitted were a number of ideas taken up. In addition to ending National Insurance cards, these included new travel policies for civil servants saving £100m a year, and making greater use of electronic records to cut the costs of Criminal Record Bureau checks for junior doctors, saving £1 million a year.

Ultra Electronics operates at 14 locations across the UK. Its Cheltenham site, which the Chancellor visited, is one of its principal high-tech manufacturing sites, specialising in cockpit systems for military aircraft and components for military vehicles. 25% of its revenue comes from the UK. More than 50% comes from sales in North America, 13% from the Middle East and 9% from Europe.
Non-media enquiries should be addressed to the Treasury Correspondence and Enquiry Unit on
020 7270 4558 or by e-mail to public.enquiries@hm-treasury.gov.uk
Media enquiries should be addressed to the Treasury Press Office on 020 7270 5238.
Published 4 February 2011