First Olympic Torch Relay locations announced
Details revealed one year before the Olympic Flame arrives in the UK.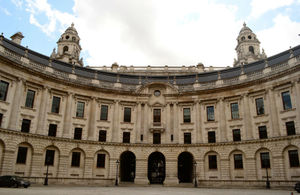 From Lands End to London via all the nations and regions of the UK, the first locations on the London 2012 Olympic Torch Relay route have been announced.
The London Organising Committee of the Olympic and Paralympic Games (LOCOG) has today confirmed initial details of the 70-day relay that will take place after the Olympic Flame arrives from Greece.
The Flame will leave Land's End, in Cornwall, on the morning of 19 May 2012 and is expected to travel 8,000 miles around the UK including visits to the Channel Islands, Shetland, Orkney, the Isle of Man and the Isle of Lewis.
The search has also begun today for 8,000 inspirational people to carry the torch around the country and nominations for torchbearers can be submitted online from now until 29 June 2011.
Following the relay, the flame will arrive at the Olympic Stadium on 27 July 2012 for the lighting of the cauldron at the Opening Ceremony, signifying the start of the London 2012 Olympic Games.
LOCOG Chair Sebastian Coe said: "The Olympic Flame will shine a light right across every Nation and Region of the UK and showcase the very best of who we are and where we live. The first locations on the route confirmed today give a flavour of the reach the Olympic Torch Relay will have around the UK and how extensive the opportunity for starting to celebrate the London 2012 Olympic Games will be."
Olympics Minister Hugh Robertson said: "The Olympic Torch Relay brings London 2012 to the doorsteps of the UK giving everybody the chance to celebrate the London Games. It's a magnificent showcase for the country and a chance to mark the achievements of inspirational people in our communities."
In addition to the first 74 locations confirmed today, many other towns, cities and venues will be revealed in a second, more detailed route announcement later this year. It is hoped that the final route will be within a one-hour journey of 95 per cent of the population.
The Olympic Flame will travel for about 12 hours a day and most days will conclude with a celebration event that will enable thousands of people each evening to enjoy a variety of entertainment and shows around the country hosted by LOCOG and its commercial partners.
The possibility of taking the Olympic Flame on a short visit to Dublin is also being explored.
Further information
Published 18 May 2011