First Minister's St David's Day Message
First Minister of Wales Carwyn Jones has sent a message to mark St David's Day, 1st of March.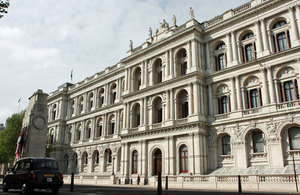 Marking the Welsh national day, the First Minister said:
"Happy Saint David's Day!
It is with great pleasure that I send to you warmest greetings on behalf of the people of Wales as we celebrate our national day on March 1st .
The celebrations that go on in Wales and around the world to celebrate St David's Day continue to grow. We have a word here in Wales 'Hiraeth' that, though it has no literal translation into English, can mean a longing for a place.
This longing, this hiraeth, to connect to the heritage and culture of Wales can be seen in the number of St David's Day and Welsh Societies that exist overseas, many of whom will be celebrating at this time.
At the same time, today's technology and social media allow people to stay in touch and to connect with one another more easily. The virtual world means that wherever you are, Wales can be just a click away.
Wales has always been a home to new and innovative ideas and in this digital age we work with institutions the world over on pioneering research projects in fields such as medical research, engineering and supercomputing.
2011 was an important year for Wales. In March the people of Wales voted to grant further law making powers to the National Assembly. We are a proud, passionate and confident nation within the UK and the referendum vote showed this.
Our national sport also took centre stage at the Rugby World Cup in New Zealand and the Welsh team put in a fantastic display on and off the field. Representing Wales at a number of events I saw first hand the high regard that people overseas have for Wales, and the way in which Welsh people left a positive image of Wales and its people in the communities they visited.
Looking ahead 2012 will see the world coming to Wales.
We have a host of international teams coming here to prepare for the 2012 Olympics, teams from, Australia, New Zealand and South Africa and more chose Wales to take full advantage of the world class training facilities we have here, I am sure they will receive a fantastic and warm welcome from the people of Wales.
We also have the honour of hosting the first competitive event of the 2012 Olympics with a women's international football game taking place at the Millennium Stadium on the 25th July.
We have already set our sights high in Wales, becoming the only nation in the World where visitors can explore the beautiful coastline in its entirety. The All Wales Coastal Path will be completed this year, and has already been chosen by a leading travel publisher as the top place to explore in 2012.
For many it is the annual celebrations of our rich culture and heritage that remain long in the memory. Events such as the International Eisteddfod and the Hay (Literary) Festival, in its 25th Year, continue to draw crowds. It is our culture-steeped heritage and our proven success in hosting world class events that has enabled Wales to attract the WOMEX world music expo to Wales next year.
As we look forward to the year ahead with the challenges and opportunities it offers, I wish you all a happy St David's Day
Dydd G?yl Dewi hapus i bawb!"
Published 29 February 2012