News story
First four new generation Enterprise Zone locations identified
The areas were hailed today by Communities Secretary Eric Pickles and Business Secretary Vince Cable, who announced the launch of a scheme to…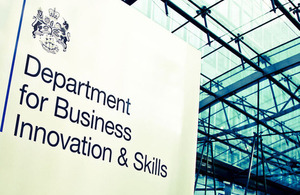 The areas were hailed today by Communities Secretary Eric Pickles and Business Secretary Vince Cable, who announced the launch of a scheme to identify where ten further Enterprise Zones will be created.
The announcement comes as the Prime Minister and Deputy Prime Minister visited the new Nottingham Enterprise Zone at the Boots campus in Nottingham to hear the local enterprise partnership's proposals to boost the local economy, as Government continues to take action to back enterprise, plan for growth and share prosperity across the country.
The Budget announced that the Government would create 21 new Enterprise Zones, within local enterprise partnerships, with simplified planning rules, super-fast broadband and tax breaks for businesses would be established in local enterprise partnerships across England. The areas will have real potential to create new businesses and jobs with wider economic benefits.
The Budget also confirmed that the first vanguard Enterprise Zones would be based within eleven local enterprise partnerships lead by Birmingham and Solihull, Sheffield, Leeds, Liverpool, London, Manchester, the Bristol area, the Black Country, Derby and Nottingham, Teesside and the North East.
Today the first four areas are able to confirm the exact location of their new zones as Boots campus in Nottingham, Liverpool Waters, Manchester Airport and the Mayor has said London's Zone would be in the Royal Docks.
The Government has asked Local Enterprise Partnerships to nominate the site of Enterprise Zones based on the economic rationale and potential for growth - as business lead partnerships with local authorities they are ideally placed to identify the sites that offer the best opportunity for growth.
The focus of the vanguard Enterprise Zones is on cities and those areas that have missed out in the last ten years. But other areas have potential for growth too so today Government is also launching a competition to identify a further 10 Enterprise Zones in England by July.
Eric Pickles and Vince Cable have written to all local enterprise partnerships with more information on Enterprise Zones.
Business Secretary Vince Cable said:
"Enterprise Zones will create the environment for businesses to thrive and stimulate growth in the places that have the most potential.
"The 21 areas we are creating across England will give businesses simpler planning rules, access to super-fast broadband and more generous treatment in respect to business rates and capital allowances.
"On top of that, the benefits of growth within Enterprise Zones will be kept within their communities, helping to drive the creation of more new jobs and successful enterprises.
"We will work closely with local enterprise partnerships to identify new ways we can support them on developing the Zones, especially on issues like enhanced capital allowances and securing inward investment."
Local Government Secretary Eric Pickles said:
"Growth is this Government's number one priority and a new generation of Enterprise Zones are central to our strategy. Local enterprise partnerships can use these zones as a springboard for private sector growth and wider regeneration. It's great news that the locations for Enterprise Zones can be announced in London, Liverpool, Manchester and Nottingham today.
"Enterprise Zones are unashamedly pro-growth, with lower taxes and reduced regulations to attract business, but they are also unashamedly localist keeping power and profits within the local area so communities benefit."
Notes to editors:
---
The Budget announced that eleven local enterprise partnerships will be invited to come forward with proposals for enterprise zones. They are: Liverpool City Region; Black Country; Nottingham, Nottinghamshire Derby and Derbyshire; Western England (includes Bristol); London; Greater Manchester; Leeds City Region; Sheffield City Region; North Eastern; Greater Birmingham and Solihull; Tees Valley.

The new Enterprise Zones reflect the Government's core belief that economic growth and job creation should be led by the private sector. The Zones will be focused on removing barriers to private sector growth with lower tax levels for business and a reduced planning regime and a lighter regulatory and administrative burden.
All Enterprise Zones will benefit from;
a business rate discount worth up to £275,000 per eligible business over a five year period;
all business rates growth within the zone for a period of at least 25 years will be retained by the local area, to support the Partnership's economic priorities and ensure that Enterprise Zone growth is reinvested locally;
Government help to develop radically simplified planning approaches for the zone using, for example, existing local powers to grant automatic planning permission;
Government support to ensure that superfast broadband is rolled out throughout the zone, achieved through guaranteeing the most supportive regulatory environment and, if necessary, public funding.
Government will work with Local Enterprise Partnerships on additional options, to suit local circumstances, including consideration of:
enhanced capital allowances (instead of business rate discounts) for plant and machinery, in a limited number of cases, where there is a strong focus on manufacturing;
Tax Increment Finance to support the long term viability of the area;
UKTI support for inward investment or trade opportunities in the zone.
---
BIS's online newsroom contains the latest press notices, speeches, as well as video and images for download. It also features an up to date list of BIS press office contacts. See http://www.bis.gov.uk/newsroom for more information.
Notes to Editors
Contact Information
Name BIS Press Office Job Title
Division COI Phone
Fax
Mobile
Email NDS.BIS@coi.gsi.gov.uk
Name Alex. Hamilton Job Title
Division Department for Business, Innovation and Skills Phone 020 7215 5976 Fax
Mobile
Published 24 March 2011