News story
First ExEFG loan granted to Norton Motorcycles
Legendary motorbike maker Norton Motorcycles (UK) Ltd will boost production of its bespoke bikes after receiving a Government-backed trade loan…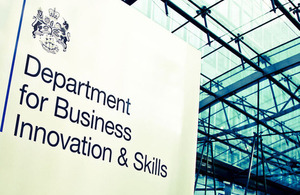 Legendary motorbike maker Norton Motorcycles (UK) Ltd will boost production of its bespoke bikes after receiving a Government-backed trade loan.
The Business Secretary Vince Cable made the announcement during a visit today (Monday 1 August) to the niche manufacturer based at Donington Park in Derbyshire.
The loan is the first of its kind and has been made under the Exports Enterprise Finance Guarantee Scheme (ExEFG).
It is one of four trade finance schemes promised as part of the Trade White Paper, a key part of the Plan for Growth. Under ExEFG, the high street bank Santander is lending £625,000 to Norton.
The funding will support the company's plans to increase production to 1,000 motorcycles a year. It will also benefit Norton's supply chain, of which 80 per cent is British.
Business Secretary Vince Cable said:
"Trade and investment are essential to driving our economy and encouraging small businesses to export more is at the heart of that.
"This iconic company, whose brand once inspired a generation of motor cycle enthusiasts, is a prime example of British business innovation.
"I hope that many more companies are inspired by what Norton is going to achieve through this funding.
"I would encourage all companies to take a closer look at the export financing now on offer that could support their business goals."
Norton also plans to double their workforce to 60 full time staff by 2012 and significantly extend their factory.
Stuart Garner, Chief Executive of Norton Motorcycles (UK) Ltd said:
"The ExEFG scheme has enabled our business to grow rapidly to meet the demands of an ever increasing international customer base and I am thrilled we now have the opportunity to take on more staff to join our team.
"This scheme will not only benefit Norton and the local area, by supporting enterprising firms across the country it will help drive forward the British economy."
Santander is one of a number of banks that are participating in the ExEFG Scheme. Other Government-banked trade finance products are also available and businesses are advised to take a look at which are the most appropriate for their borrowing requirements.
Steve Pateman, Head of Santander Corporate, Commercial & Business Banking, said:
"Norton Motorcycles is a growing company with an impressive business model and management team and we are delighted to have been able to support them through the first Ex-EFG backed loan.
"Schemes like this are invaluable for being able to get smaller exporters at the margins of commercial lending criteria, like Norton, the finance they need if they are to drive international trade and regional economic growth."
Vince Cable visited Norton Motorcycles as part of a visit to Derby to meet local councillors, Colin Walton, Chairman of Bombardier Transportation UK and the Economic Task Force.
He is also meeting a group of young people taking part in one of the National Citizen Service (NCS) pilots in Kirkby-in-Ashfield in Nottinghamshire. The group will be learning skills to help them become entrepreneurs.
Notes to editors:
ExEFG is a new Government-backed trade finance scheme based on the successful Enterprise Finance Guarantee Scheme (EFG). ExEFG can enable accredited lenders to provide export finance facilities of between £25,001 and £1 million for terms of up to 2 years to viable SMEs with up to £25 million turnover.

Launched on the 28 April 2011, initially on a pilot basis the ExEFG Scheme will be reviewed in the New Year.

Barclays, HSBC, Lloyds & Bank of Scotland, Royal Bank of Scotland and NatWest and Santander have agreed to participate in the ExEFG scheme initially. Further lenders are expected to join in due course.

For full details of support available for SMEs see: http://www.bis.gov.uk/policies/enterprise-and-business-support/access-to-finance.

The National Citizen Service (NCS) will help to build a more cohesive, responsible and engaged society by bringing 16-year-olds from different backgrounds together in a residential and home-based programme of activity and service during the summer. For further information on the NCS programme and the Big Society public service reform agenda see: http://www.cabinetoffice.gov.uk/big-society.

BIS's online newsroom contains the latest press notices, speeches, as well as video and images for download. It also features an up to date list of BIS press office contacts. See http://www.bis.gov.uk/newsroom for more information.
Notes to Editors
Contact Information
Name BIS Press Office Job Title
Division COI Phone
Fax
Mobile
Email NDS.BIS@coi.gsi.gov.uk
Name Ashley Rogers. Job Title
Division Department for Business, Innovation and Skills Phone 020 7215 5971 Fax
Mobile
Published 1 August 2011