Press release
First ever Singaporean State visit begins in London
On 21 and 22 October a large delegation from Singapore will visit London, headed by the President, Tony Tan Keng Yam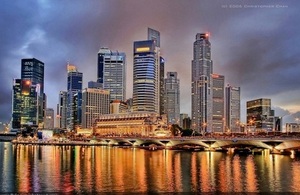 President Tan will be accompanied by his wife, Mrs Mary Tan, and senior Ministers. The visit will focus on the strong connections between the UK and Singapore, in particular in science, innovation, business, and education.
President Tan and Mrs Tan will meet Her Majesty The Queen and His Royal Highness the Duke of Edinburgh and other members of the Royal Family, including Their Royal Highnesses the Duke and Duchess of Cambridge who visited Singapore in September 2012, and His Royal Highness The Duke of York. President Tan and Mrs Tan will attend a State Banquet and a dinner at the Guildhall in London.
Foreign Office Minister for Asia, Hugo Swire, said:
It is an honour to welcome President Tan to the UK, especially as we approach the fiftieth anniversary of Singapore's independence next year.

This is a country with which we share a long and successful history. We share membership of the Commonwealth of Nations; where we work together to combat poverty, promote education and champion an economically and environmentally sustainable future. We also continue to work together on important international issues such as defence and security as well as prosperity and trade.

I hope very much that President Tan and the whole delegation enjoy their time here, and that this leads to even greater cooperation in the months and years to come.
The visit reaffirms the strong relationship between the UK and Singapore. Singapore is the UK's largest export market in South East Asia, accounting for half of our exports to the region. It is also a vital investor in the UK economy, accounting for £22 billion in 2012 and taking a leading role in London through its two sovereign wealth funds: GIC and Temasek.
President Tan will emphasise the value he puts on this relationship through a Business Innovation seminar at the Royal Society, where he will be conferred with the King Charles II medal for his support in the areas of science and innovation.
President Tan will go to Westminster Abbey where he will lay a wreath at the Grave of the Unknown Soldier; and will address Members of Parliament, Peers and other invited guests at the Palace of Westminster. The President will also visit Bristol to focus on education, the creative industries and urban regeneration: all significant in the development of Singapore's society and economy.
As part of a broader programme President Tan will visit Kew Gardens, Imperial College and Lloyds of London.
Published 21 October 2014