First Emirati Woman wins Mansion House Scholarship
Lord Mayor of the City of London receives the First Emirati Woman to win Mansion House Scholarship.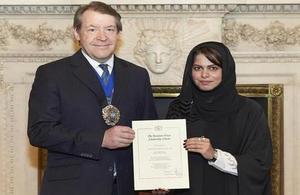 The Lord Mayor of the City of London Alderman Roger Gifford received on Friday 14 September 2013, Mrs. Hind Eisa Salim, Vice President; Senior Relationship Manager at Mashreq Bank who has become the first person from the UAE to win the Mansion House Scholarship since it was launched twelve years ago.
During the meeting, Lord Mayor presented Mrs Salim a signed certificate, marking formally her appointment as a Mansion House Scholar. The Mansion House Scholarship Scheme aims to attract the brightest and best from the financial services sector in countries which have strong links with the UK financial services sector and in particular with the City of London. Winners can travel to the United Kingdom to study or undertake training or work experience in the Financial Services Sector. Ian Gibbons, Deputy Consul General at the British Embassy in Dubai said:
"I am pleased that Mrs. Salim has become the first Emirati winner of the Mansion House Scholarship. We believe that sharing skills and experiences is at the heart of our relationship with the UAE".
The meeting was also attended by Mr Julian Tregoning, Chairman of Trustees for the Scholarship Scheme; Alderman and Sheriff Jeffrey Evans (a Trustee); Mr Neil Chrimes, Head of Programmes at Mansion House; Brigadier Neill O'Connor, Secretary to the Scheme and other newly appointed Mansion House Scholars from different countries.
Notes to the Editors:
Published 17 September 2013
Last updated 17 September 2013
+ show all updates
Minor changes

Small website change

Update website address

First published.