News story
First class experience for Dounreay's new graduates
Ten new graduates started their careers at Dounreay this week as the company's graduate development programme entered its second year.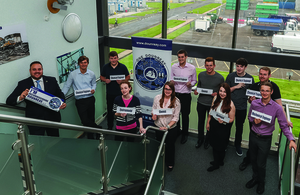 Applications to the scheme soared after the success of last year's first ever graduate intake, with more than 200 applications received. Candidates were put through their paces at a two-day assessment centre before the successful few were chosen.
The new starters will follow a comprehensive induction process and get an opportunity to meet with senior managers before beginning work in their new roles.
Phil Craig, Dounreay's Managing Director, said: "Graduates have a critical part to play in decommissioning Dounreay. Our new recruits are enthusiastic and bring a new set of skills to help us progress towards the site's interim end state. It is also good news for our local area and I am now looking forward to welcoming a further ten apprentices later in the year."
One of the new graduates, Michael Tait, grew up in nearby Barrock and studied Chemical Engineering at Heriot- Watt University. He said: "I am delighted to be one of the ten people joining the team this year and I look forward to gaining first-hand engineering experience on one of Europe's toughest decommissioning projects.
"Dounreay is a major employer in our area, so I know this is a great starting point to build my career." Once the United Kingdom's centre of fast reactor research and development, Dounreay is on an ambitious journey to be recognised as the European reference site for nuclear decommissioning.
The skilled workforce is delivering a varied programme incorporating construction, demolition and waste management projects. Its mission is to return the site to as near as practicable its original condition.
Published 10 August 2016