World news story
First British Week in Kyrgyzstan
To celebrate the formal opening of the British embassy in Bishkek, the first British Week in Kyrgyzstan will take place from 9 to 14 June.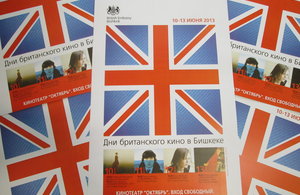 The British Week will kick off on Sunday 9 June with the British Embassy Cup, an English-language debating Westminster-style tournament at the American University of Central Asia in which students of Bishkek-based universities will debate issues such as democracy, human rights, poverty alleviation and freedom of expression.
Former Kyrgyz President, Ms Roza Otunbaeva and Her Majesty's Ambassador Judith Farnworth will join the jury to judge the final debate. One or two slots remain, so if you are an English-speaking student and would like to take part, please register by 8 June by sending names of your team members to the tournament coordinator Talant Smailov at talant.smailov@gmail.com.
On Monday 10 June, the British Embassy team will share information on the full range of its activities in Kyrgyzstan at a presentation for partners from across government, parliament and civil society.
Also on 10 June, the British Film Festival will open at 18.00 at the "Oktyabr" cinema (address: Chuy pr., 184). Films will be screened at 6pm to 8pm from 10 to 13 June. The films showing have won critical acclaim from various film festivals and institutions such as BAFTA, Academy Awards and others. The entrance is free. The schedule of the films is as follows:
10 June, 6pm - Wuthering Heights, 2011
11 June, 6pm - Submarine, 2011
12 June, 6pm - Fish Tank, 2009
13 June, 6pm - The Illusionist (animation), 2010.
British Week continues on Tuesday 11 June with the presentation of prizes to winners of a UK-themed painting and poster competition in which over 500 children and young people from across Kyrgyzstan competed. The best artworks will be displayed at the Gallery of Balajan Centre for Aesthetic Development (Moskovskaya st., 53) until 21 June.
The centrepiece of the week will be the official Opening Ceremony of the British Embassy in Bishkek on 13 June, at which a commemorative plaque will be unveiled by British and Kyrgyz VIP guests.
The British Week will close with our Queen's Birthday Party on Friday, 14 June. Guests will include leading Kyrgyz figures, the British community and the Embassy's many partners from government, civil society and the international community.
For further information on the British Week please visit our website or contact the Embassy's Communications Manager: Syinat Sultanalieva at Syinat.Sultanalieva@fco.gov.uk or (312) 30-36-39.
Published 5 June 2013