World news story
First British Trade Mission Discusses Future Cooperation with Tajik Counterparts
The British Embassy has welcomed the first ever UK trade mission to Tajikistan for meetings with Tajik businesses and government bodies.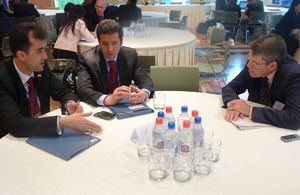 The trade mission consisted of nine companies, working in services, construction of infrastructure projects, supplying goods and equipment, steel bridging and information technology.
The missioners had fruitful discussions with government representatives, the private sector and the international donor community in Tajikistan. In particular, missioners called on the Minister of Economic Development and Trade, Sharif Rahimzoda, the Deputy Chairman of the State Committee on Investments and State Property Management, Shukhrat Rakhmatboev, Minister of Land Reclamation and Water Resources, Bobokalonov Rahmat and other ministries.
Nigel Peters, leader of the trade mission, said:
This mission has had a busy and interesting programme, meeting a wide range of organizations, including the private sector, government, and international development aid organizations. We have identified several intermediate business opportunities in various sectors. All of the missioners will be seeking to work with local business partners from Tajikistan in the coming months.
Speaking on the last day of the trade mission, Ambassador Robin Ord-Smith said:
The missioners have had many successful meetings with senior interlocutors during their time in Tajikistan, and have discussed business initiatives which will be of benefit to both of our countries. Her Majesty's Government will continue to work hard on increasing trade and investment between the UK and Tajikistan. I am very grateful to our Tajik hosts for their warm welcome to our missioners.
Published 19 April 2013