First batch of colonial administration files now available at the National Archives
Independent reviewer Professor Badger has spoken after the first tranche of migrated archive files were made available to the public.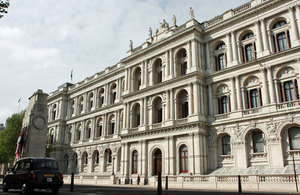 Speaking today he said:
"I am delighted that the first tranche of the migrated archives will be available to the public at the National Archives from 18th April. Details of the release dates for subsequent tranches are available on the colonial administration files page.
Since being appointed by the Foreign Secretary in June last year, I have monitored progress on the release of these colonial files very closely. I am satisfied that the Foreign Secretary's commitment that every part of every paper of interest, subject to legal exemptions, should be released, is being fulfilled. I agreed the order in which the files are to be released.
The first batch to be released contains material from the files that are likely to be the most sensitive and of the greatest public and legal interest. The material from the British Indian Ocean Territory and Malaya will be released in its entirety. The material from Kenya and Cyprus will continue to be released as they are reviewed in accordance with the agreed timetable. By the end of 2013 more than two thousand boxes of documents will have been transferred to the National Archives. I am satisfied that the extra resources devoted to reviewing the papers have been provided that will enable that timetable to be met.
I have myself examined files that are being prepared for transfer and looked at the entire process. I am satisfied that the process is open and transparent and that FCO staff are closely following the Foreign Secretary's commitment that all the files will be released. I have been particularly concerned to examine closely the claims for redaction under the Freedom of Information and Public Record legislation. I am satisfied both from working through the cases for redaction myself and from the scrutiny by the Lord Chancellor's Advisory Committee that the recommended redactions have been kept to a minimum and are appropriate. From my own experience the quantity of material redacted is very small: my estimate is well under 1% of the holdings."
Published 18 April 2012