World news story
First Annual Management and Leadership Forum held in Armenia
The British Embassy Yerevan supports the enhancement of management and leadership skills to promote resilience and prosperity in Armenia.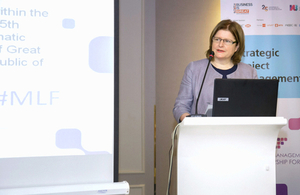 The First Annual Management and Leadership Forum in Armenia, held in Yerevan on 10 October, proved hugely popular, attracting over 200 participants from across government, business and academia. The event, organised by the British Embassy in Yerevan in partnership with the International Academy of Business (IAB), sought to increase awareness of the value of good leadership and management by sharing British and international experience and expertise.
A raft of senior governmental representatives, over 100 CEOs of Armenian companies and 50 students gathered to listen to the insights of 18 respected international and local speakers.
In her welcome speech, HM Ambassador Judith Farnworth said:
This is an example of how we are sharing UK best practice to support the resilience and prosperity of Armenia. Last year the British Embassy in Yerevan supported IAB in introducing CMI qualifications into Armenia. We have been impressed by the level of interest in this qualification and are confident that its impact will soon show across Armenian organisations. And events like this will help to kick-start that process by enabling exchanges of ideas and experiences.
The forum was followed by thematic workshops on strategic management and leadership, human resource planning, strategic project management as well as financial management. The British Chartered Management Institute's CMI Management and Leadership professional qualification was promoted during the event. The event also focused on encouraging a new generation of Armenian leaders through a "leadership challenge" in which students from top Armenian universities competed for the prize of internship opportunities at leading Armenian companies.
The Forum was one of a series of events organised by the British Embassy to celebrate the 25th anniversary of UK - Armenia diplomatic relations.
You can find the photos of the event on the British Embassy Yerevan's Facebook page.
Published 16 October 2017