News story
Firms forging partnerships to tackle reoffending
More than 150 organisations looking to bid for offender rehabilitation contracts have attended two events aimed at bringing small and large providers together to forge successful partnerships in reducing reoffending.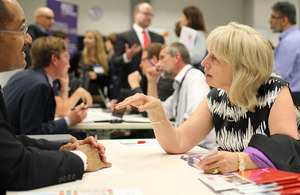 The sessions were hosted by the Ministry of Justice (MoJ) as part of a drive to help organisations join up and work together when bidding for contracts to turn criminals away from crime.
Work to rehabilitate offenders is being opened up to the private and voluntary sector as part of radical Government reforms to tackle stubbornly high reoffending rates. Currently almost 60 per cent of prisoners sentenced to less than 12 months commit further crime within a year of release.
But Ministers have made clear they want to see a wide range of organisations bidding for the work, to bring as much innovation as possible to tackling this issue.
Justice Minister Jeremy Wright said:
'It is extremely encouraging that so many different providers attended these events, demonstrating their commitment to building positive relationships.
'Through strong, innovative partnerships between the private, public and voluntary sectors we will finally be able to bring down our high reoffending rates, meaning less crime, fewer victims and safer communities.'
The events took place in London and York and proved so popular the MoJ has organised two further dates, which could bring the total number of providers attending to more than 250.
Key elements of the reforms to reduce reoffending are:
Introducing a minimum 12 months supervision and rehabilitation for all offenders on release from prison;
creating a nationwide network of 71 resettlement prisons so nearly all offenders are released into the area in which they will live and be supervised; and
creating a new public sector National Probation Service tasked with protecting the public from the most dangerous offenders.
The new approach will see providers only paid in full if they are successful at reducing reoffending, making taxpayers' money work harder.
Published 16 August 2013