Firearms sentence doubled at Court of Appeal
Man found with a loaded firearm he was to supply to another criminal has his sentence raised.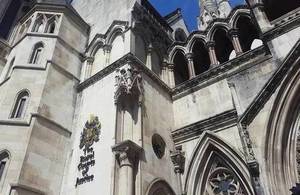 The Solicitor General, Edward Garnier QC MP has welcomed the doubling of the prison sentence originally given to 23-year-old Zephen Rollings for possession of a loaded firearm with intent to enable another to endanger life, from 5 to 10 years.
The Solicitor had appealed the sentence to the Court of Appeal as possibly unduly lenient, arguing that as the supply and movement of dangerous weapons around the country was essential to the violent criminal acts committed with them, the punishment of the facilitators should reflect the gravity of the potential ultimate result of their activity.
In the case of Rollings, the weapon - a Smith and Wesson .357 calibre Magnum revolver loaded with hollow-point bullets, was particularly dangerous.
The Solicitor General said:
In my view the original sentence of 5 years was unduly lenient and did not properly reflect the seriousness of the crime. It was truly shocking that a gun loaded with dum-dum bullets, which expand on impact, was being carried in broad daylight in a residential street. The Court of Appeal agreed and doubled the sentence.
The facts of this case painted a stark picture. Criminals carrying guns cause untold misery. The court clearly recognised the seriousness of this crime and I hope the increased sentence of 10 years sends out a clear message that gun crime will be dealt with severely.
Background
On 6 July last year, police officers searched Zephen Rollings in a mini-cab outside an address in Brockley, South London. He was carrying a small leather bag which contained an American .357 Magnum calibre Smith and Wesson revolver. The gun was loaded with live ammunition which on test firing were found to mushroom on impact. He pleaded guilty to possessing a firearm with intent to enable another to endanger life and to possessing both a prohibited weapon and ammunition. On 10 November at Woolwich Crown Court, he was sentenced to a total of 5 years' imprisonment.
The case was referred under the unduly lenient sentence scheme to the Court of Appeal and presented by the Solicitor General, Edward Garnier QC MP. Giving judgment today, Lady Justice Hallett, Mr Justice Irwin and Mr Justice Nicol increased his sentence to 10 years' imprisonment.
Published 3 February 2012