Press release
Fire service to receive financial support following Smethwick blaze
West Midlands Fire Service is to be offered financial support following the large-scale Smethwick fire the government have announced.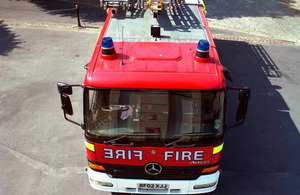 Ministers in the Department for Communities and Local Government said today (8 July 2013) that they would look sympathetically on the fire service where they have incurred extra costs as a result of the fire, and announced that they stand ready to reimburse the West Midlands Fire Service for 85% of the expenditure incurred under the Bellwin scheme, which gives assistance with financial burdens due to large-scale emergencies.
Large scale fires always require fire services work together with neighbouring services. That was the case in Smethwick, which also required West Midlands, Staffordshire and Hereford & Worcestershire fire and rescue authorities to respond.
Ministers spoke to the West Midlands Fire and Rescue Authority (FRA) Chief Fire Officer Vij Randeniya in the immediate aftermath to convey their thanks to the fire teams involved and to assess what support may be needed.
Fire Minister Brandon Lewis said:
Firefighters did an excellent job getting the Smethwick blaze under control and the cause will be thoroughly investigated by West Midlands FRA.

Given the exceptional scale and nature of the fire and the costs involved in tackling it, requiring multiple services to respond, the government has activated its emergency response Bellwin scheme so we can give West Midlands Fire Service all the support it needs.
Further information
Councils, police, fire and National Park authorities are eligible for Bellwin reimbursement when they have spent more than 0.2% of their calculated annual revenue budget on works that have been reported to the department as eligible for grant.
Published 8 July 2013