Fire Minister attends national memorial service to pay tribute to victims of 9/11 and firefighters
Fire Minister Bob Neill has paid tribute to victims of the terrorist attacks on September 11th, 2001 and for firefighters who have lost their…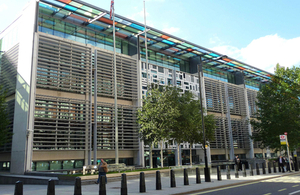 Fire Minister Bob Neill has paid tribute to victims of the terrorist attacks on September 11th, 2001 and for firefighters who have lost their lives in the line of duty at a memorial service held at St Paul's Cathedral. This was followed by a wreath laying ceremony at the National Firefighters Monument at Sermon Lane, near St Paul's Cathedral in the City of London.
Fire Minister Bob Neill said:
It is an honour to lay a wreath on behalf of the Government in memory of those who lost their lives in such an appalling act of terrorism. It is important that we pay tribute not just to those who perished, but their families and friends and all those affected by the events of that terrible day.

This is also an occasion to remember those firefighters nearer to home who have paid the ultimate price for protecting their communities and ensure that their bravery and sacrifice is never forgotten.
Notes to editors
The Memorial service of remembrance takes place annually each year. The service is organised by the Firefighters Memorial Trust which is a Registered Charity. Sir Ken Knight is the founder Vice-Chairman of the Trust. HRH the Princess Royal is a patron of the Trust. Lee Howell, Chief Fire Officer Devon and Somerset FRS and Vice President of the Chief Fire Officers Association, is a Trustee of the Firefighters Memorial Charitable Trust. For more information on the Trust, monument and memorial: www.firefightersmemorial.co.uk (external link).
Twitter
Keep up to date with the Department by following us on Twitter (external link).
Media enquiries
Visit our newsroom contacts page for media enquiry contact details.
Published 12 September 2011