World news story
Fiona Woolf visits Vietnam to promote trade and investment ties
A City business delegation will join Fiona Woolf, the Lord Mayor of the City of London, on a visit to Vietnam, 5 to 7 October 2014.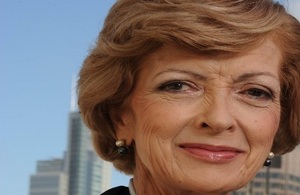 Alderman Fiona Woolf, the Lord Mayor of the City of London, will pay an official visit to Vietnam's Ho Chi Minh City and Hanoi, 5 to 7 October 2014. The visit aims to boost the financial and economic ties that have developed between the 2 countries.
Lord Mayor Fiona Woolf said:
The UK and Vietnam already have a strong economic relationship, but there's huge potential to take it into a new stage. I hope this visit will show why the UK should be seen as the partner of choice on trade and investment.
During the 3 day visit the Lord Mayor will meet with leading politicians, policymakers and business professionals in Vietnam. She will exchange opinions on how to boost sustainable growth in both nations by working more closely together.
Opportunities for collaboration
Lord Mayor Fiona Woolf said:
Vietnam is a high growth market with significant business opportunities across a range of sectors, and UK firms are keen to deepen their ties with the Vietnamese business community.
The main areas of discussion will include opportunities for collaboration arising from:
Foreign Direct Investment (FDI) on infrastructure projects
Professional / vocational skills training
Intellectual capital
Public Private Partnership (PPP) projects
Proposed European Union (EU) - Vietnam free trade agreement
Fiona Woolf said,
The UK offers access to a uniquely international pool of capital, talent and expertise, and UK firms possess a whole lifecycle approach to project management.
Closer partnership with the City of London can help Vietnamese companies to unlock the long-term financing it needs to fund investment in key areas like infrastructure and Public Private Partnership projects.
That is why we fully support Vietnam's financial reforms and hail the progress in the EU-Vietnam free trade agreement, which will lead to significant mutual economic benefits.
Contacts
Contact the UK Trade & Investment (UKTI) team in Vietnam for help to develop your export business in the Vietnamese market.
Published 3 October 2014