Fines imposed for contempt of court from online images
Online pictures of a defendant could have harmed a trial, judges rule.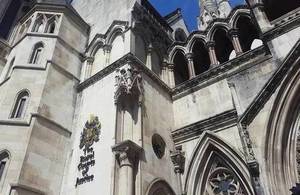 Two British national newspapers have been fined £15,000 each for breaching the Contempt of Court Act over online photographs of a defendant in a murder trial.
In case brought by the Attorney General, Dominic Grieve QC MP, it was argued that the publishers of the Daily Mail and The Sun websites had created a substantial risk of prejudice to the trial of Ryan Ward at Sheffield Crown Court in 2009 by publishing photographs of him holding a firearm.
On 3 March 2011 Lord Justice Moses and Mr Justice Owen, sitting at the High Court said in their judgement that although the photographs were removed when the error was realised there was a significant risk that a juror might choose to read an article in relation to the very case they were trying.
In making the costs judgement on 19 July, the judges said that both newspapers have now taken steps to avoid repetition and apologised to the Attorney General. They accepted that the publications were the result of a genuine mistake. The publishers were also required to pay the Attorney General's costs of £28,117.23.