Press release
Find the best fishing spots in the South West as new season of river fishing begins
The Environment Agency is urging anglers old and new to go fishing and discover the best angling spots in the South West.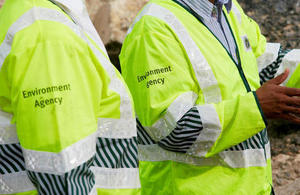 With the start of the new coarse fishing season, the Environment Agency is encouraging people in the South West to buy a rod licence and get exploring.
Along with the Angling Trust, Met Office, and Post Office, the EA have produced Fishinginfo.co.uk where anyone can find the best places to go fishing.
Steve Thomas, an Environment Agency fisheries specialist said:
Those who already fish in the South West already know that there is a chance of encountering some exceptional fish in this area.
We want to make it possible for more people of all abilities to enjoy angling and for our fisheries to provide a positive contribution to the quality of people's lives.
Any anglers who want to try their luck and skills on local riverbanks as the new season starts must buy a rod licence before they go.
The rivers in the South West offer species such roach, barbel, chub, dace, brown trout, pike and perch. A variety of stillwaters are also home to carp, bream and tench, with excellent trout fishing in many reservoirs.
Steve said:
Fishing is an excellent way to enjoy the outdoors, and has great health, welfare and educational benefits. With Father's Day coming up, it's the perfect time to buy rod licence and get out and discover the South West as a family.
A coarse and trout rod licence is only £27 for the year and it is easy to buy online from the Post Office website which can be also be accessed through Fishinginfo.co.uk. Licences can also be bought over the counter at your local Post Office or by telephone on 0344 800 5386
Examples of where rod licence money goes in the South West:
• We carry out surveys of fish populations in rivers and streams across the South West to identify where action may be needed to improve fisheries.
• We provide advice and practical support to angling clubs to help them manage their fisheries. We also investigate fish kills.
• We enforce fisheries legislation, including rod licence checks to crackdown on illegal fishing.
• We stock fish where this will help restore populations, for example, at the end of February, we stocked 4,000 juvenile barbel into the Bristol Avon and lower Somerset Frome, 2500 chub, dace and chub into the River Cale, Wincanton and donated crucian carp, tench and bream to Bideford Angling Club in Devon, all from our National Calverton Fish Farm.
• We're improving fish passage at a number of weirs along the River Tone and Exe. We have also installed an eel pass at Congresbury weir, on the Congresbury Yeo.
Published 22 June 2015