Press release
Find out more about the Stockton-on-Tees flood defence scheme
Public drop-in to be held on Wednesday 2 July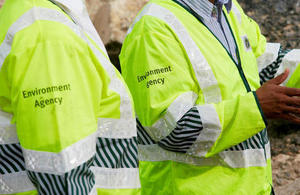 Plans to protect properties in the Lustrum Beck area of Stockton from flooding are being revealed on 2 July.
A drop-in is being held by the Environment Agency and Stockton Borough Council to give residents further information on the proposed works.
The project, managed by the Environment Agency working in partnership with Stockton Borough Council, will protect 162 homes in Browns Bridge and Oxbridge from high water levels in Lustrum Beck. Both organisations have been working closely together over the last year to find a solution to the flood risk problem along Lustrum Beck.
The £3 million project will be funded by a mixture of government and local levy funding and a contribution from Stockton Borough Council.
The project will be delivered by the Environment Agency, with Stockton Borough Council leading on the works to Londonderry Bridge on Durham Road, which is a key element of the scheme.
A public drop-in meeting will take place on Wednesday 2 July between 3pm and 6.30pm at the Grey's Road Institute, Grey's Road, Stockton, allowing residents to find out more about the works. Flood risk experts from the Environment Agency and the Council will be on hand to discuss the plans.
Samantha Boyes, project manager of the scheme from the Environment Agency, said:
Flood risk in this area is really complex, and it has been a real challenge to find a solution. We are pleased to have found a solution that is affordable and offers a higher level of protection than previously proposed schemes. Working closely with the Council and taking a new approach to flood risk in the catchment has allowed this to be possible and we are looking forward to discussing the proposals with residents.
Stockton Council's Cabinet Member for the Environment, Councillor David Rose said:
I hope everyone living in the Lustrum Beck area takes the opportunity to visit the drop-in to find out more about the works which will help to protect their properties from flooding in future.

We do not want to see a repeat of the devastation caused by the Autumn 2012 floods and that is why we have worked with the Environment Agency to do all we can to secure funding to enable progression of these flood defence works. I am delighted that we have now reached a point where we can share the plans with residents and explain the timeline for delivery of the works.
The scheme will involve replacing and raising flood walls and embankments in the Newtown area, improvements at Durham Road bridge and a new screen on Primrose Hill culvert. A second phase of works is also planned which will involve number of flood storage areas in the upper catchment.
Published 27 June 2014