Press release
Find out more about plans for new M49 junction at Avonmouth
Road users, local residents and businesses are being invited to learn more about plans for a new junction on the M49 at Avonmouth, near Bristol.
This news article was withdrawn on
This document is no longer current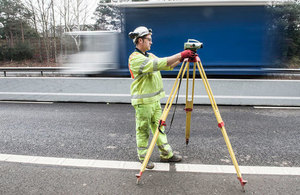 The new junction, part of the Government's £15 billion road investment programme, will improve road access and a much-needed connection into Avonmouth and Severnside, and help support economic growth and employment.
A public information event is being staged at Easter Compton Village Hall on Thursday, 21 July (11am to 7pm), which will provide details on the three options being considered for the scheme and invite input from all those attending to ensure the best possible solution is delivered.
During the event, members of the public will also have the opportunity to learn more about the timescales for the scheme and speak to the Highways England project team about the plans.
Highways England South West Regional Director Andrew Page-Dove said:
We recognise the strategic importance of the Avonmouth Severnside Enterprise Area as a key regional employment site and that is why we are helping to unlock economic growth in the area by building this new junction.

The public information event will allow us to introduce ourselves to the local community, explain what we are planning to do to deliver the commitment in the Roads Investment Strategy, and discuss our plans.
Highways England expects to select a preferred design option by this autumn following ongoing discussions with local stakeholders, businesses and the community. Construction could start by late 2017.
Highways England Senior Programme Manager Brian Gash added:
Working with local stakeholders, we have considered several options for the proposed new junction and we are now evaluating three remaining options at two locations.

We welcome feedback at the forthcoming information day and the local community will be kept informed as the proposal develops further.

Another information event will be held before construction starts to ensure everyone understands details of the final scheme and the associated construction programme.
Additional information is also available on the Highways England project website which will be updated on a regular basis.
General enquiries
Members of the public should contact the Highways England customer contact centre on 0300 123 5000.
Media enquiries
Journalists should contact the Highways England press office on 0844 693 1448 and use the menu to speak to the most appropriate press officer.
Published 14 July 2016