Press release
Find out more about flood protection works for Corbridge
Public drop-in to be held on 15 July at Corbridge Rugby Club.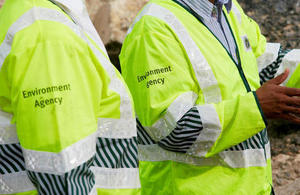 People in Corbridge are invited to attend a public drop-in event to find out more about plans to improve flood protection in the town.
The Environment Agency is planning a £400,000 project to refurbish flood defences that protect 54 properties in the Stanners area near the River Tyne.
To give local people the chance to find out more about the scheme, the Environment Agency is holding a drop-in session at Corbridge Rugby Club, on Tuesday 15 July, from 4pm to 7pm.
Flood risk officers will be on-hand to explain the works and answer any questions.
The work will involve refurbishing an existing flood wall that is more than 50 years old and is reaching the end of its working life. New steel piles will be installed on the riverside to strengthen the structure of the defence.
The work will begin in August and will take approximately three months to complete.
Published 11 July 2014