World news story
Financing Investment in Rail
The British Embassy hosted a seminar on the Public Private Partnership in Poland's railway sector on 26 March.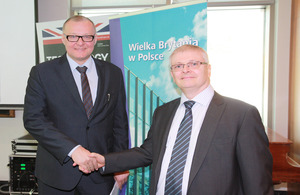 The British Embassy in Warsaw in partnership with the Ministry of Transport, Construction and Maritime Economy and Kurier Kolejowy hosted a seminar on Financing Investment in Rail and perspectives for development of Public Private Partnership in this sector. The event was opened by British ambassador to Poland, Robin Barnett, and the keynote speech was given by Andrzej Massel, Undersecretary of State, Ministry of Transport, Construction and Maritime Economy. The seminar included panel discussions as well as case studies. The media patron of the event was Kurier Kolejowy.
The seminar shared UK and Polish experiences of PPP. The UK has used PPP as a financing tool for over 20 years, with many examples of good co-operation between the private and public sectors. Panellists discussed the main barriers to PPP, for example the lack of experience in project preparation and management, and suggested solutions to improve the PPP model. Many agreed that Poland should start from less complex projects, such as regeneration of train stations, to encourage both private and public sectors to co-operate in the future.
The event attracted over 80 guests representing local authorities, railway companies, as well as UK consultancy companies in Poland.
Published 27 March 2013