News story
Financial services super-complainants confirmed by government
Government confirms financial services super-complainants to strengthen the voice of financial consumers.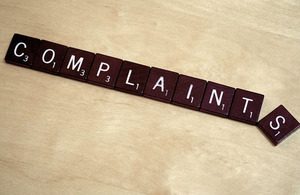 The government has confirmed the names of the first consumer representative bodies, to be given 'super-complainant' status for the financial services sector.
The four bodies will have the power to present complaints to the Financial Conduct Authority (FCA) if they believe there are features of a financial services market that are, or could be, significantly damaging the interests of consumers. For the first time business groups are being included.
The procedure for super-complaints to the FCA was brought in by the Financial Services Act 2012, to strengthen the voice of consumers of financial services.
Once a super-complainant has made a complaint to the FCA, the FCA must respond within 90 days.
The organisations given super-complainant status are:
Super-complainants are better placed to judge whether markets for financial services in the UK are failing consumers, who individually may lack sufficient information to judge this.
This new process will therefore strengthen the voice of consumers of financial services in the UK. In the past, super-complaints about financial services could only be made to the Office of Fair Trading (OFT), which does not have the same powers as the FCA in relation to financial services.
Now the FCA, after receiving a super-complaint could, if appropriate, use its own powers to tackle any underlying issues identified as a result of a super-complaint.
For example, if the FCA agrees with the super-complainant that there is a significant problem, it could restrict financial services businesses from carrying out certain activities, make new rules to require firms to do things differently, take enforcement action, or launch a consumer redress scheme to put things right for consumers who have suffered detriment. The FCA might do this on the basis of the evidence presented, or may need to carry out its own investigation first.
Financial Secretary to the Treasury, Sajid Javid said:
The government is determined to create a financial services sector that serves the needs of customers rather than the other way round. It is vital that consumers, including small and medium-sized businesses, have a stronger voice to raise issues when they feel specific markets are not working as they should.
Super-complainants have an important role, and coupled with the strong remit of the Financial Conduct Authority to protect consumers, these measures are a significant step in our drive to tackle bad practice in the financial services sector ever more rapidly and robustly.
The Consumer Council's Interim Chief Executive, Aodhan O'Donnell added:
We are delighted that our role in representing consumers in Northern Ireland has been recognised today by the UK government.
All too often consumers have had a poor experience with financial services so it is important that consumer organisations have as many tools and channels as possible to ensure they are best protecting consumers' interests.
We continue to work with the FCA on ongoing issues, such as publishing the report on the Ulster Bank crisis and its plans to regulate the pay day loans industry. However, today's announcement means that if we think we need to escalate something or address something new and specific we will have the recognised status to do that.
John Allan, National Chairman, Federation of Small Businesses, said:
We are delighted to take on this important responsibility. With ongoing issues in the financial services sector, such as the mis-selling of complex financial agreements to small firms and the allegations reported in the Tomlinson report, it is vital the smallest businesses have a route to complain where they feel they have been treated unfairly.
FSB research has shown many members continue to believe the banks are only out to serve their own interests. We hope by having a clear route to voice their concerns, not only will they get a means to get redress but also that trust in the banking sector, so vital for growth, will begin to improve.
We will now look forward to working with the FCA to put a robust mechanism for complaints in place.
Which? executive director, Richard Lloyd, added:
Giving consumer groups like Which? the power to bring super complaints in financial services means we can prompt early action by the regulator and help prevent scandals and mis-selling before they get out of control.
For too long, consumers have suffered from a series of financial scandals. That's why we need the regulator to proactively monitor the market, respond to evidence from consumers and take tough action against bad practice.
Citizens Advice Chief Executive Gillian Guy also added:
People can end up hugely out of pocket because of underhand tactics by some financial services. Through super-complaints we can expose deceptive practices, get authorities to act quickly and see consumers better off as a result.
Billions of pounds of compensation has been paid out to consumers following Citizens Advice super-complaint about the mis-selling of Payment Protection Insurance. Each year Citizens Advice deals with over 1 million consumer problems, giving us in-depth insight into the issues people have with financial services.
Previous examples of super-complaints in action
Card surcharges
Which? brought a super-complaint about card surcharges in 2011. A surcharge is an additional fee added on to the cost of the transaction. The super-complaint identified three features it thought resulted in consumer detriment, in the passenger transport sector. These were:
lack of transparency. Surcharges are often only revealed towards the end of a lengthy transaction process and so it can be difficult to compare prices across competing retailers
lack of a reasonable, practical alternative to avoid the fee
surcharges often appear to exceed reasonable estimates of retailers' costs of processing payments
The OFT considered that payment surcharges were most likely to result in consumer detriment where they lacked transparency and where consumers lacked a practical way to avoid the surcharge, as the surcharges reduced the extent to which consumers shop around and compare full price offers. This weakened the competitive pressure between retailers and resulted in consumers not getting the best deal.
The OFT launched an investigation which resulted in 12 airlines agreeing to scrap surcharges. The OFT also recommended that the Government introduce measures to prohibit retailers from surcharging for debit cards and ensure a meaningful and consistent solution across the economy.
The government acted on these recommendations by legislating to ban excessive credit and debit surcharges and implementing in this aspect of the Consumer Rights Directive well ahead of the June 2014 deadline. This ban came into effect on 6 April 2013.
Cash ISAs
Consumer Focus brought a super-complaint to the OFT in 2010, which included concerns that:
transferring cash ISAs was taking too long and there were arbitrary rules preventing transfers into some of the most attractive accounts
interest rates were not sufficiently transparent
consumers were being attracted by temporary bonus rates that subsequently fell substantially
The OFT found that:
the transfer process for cash ISAs was too lengthy and too often involves problems for consumers
there are significant benefits from cash ISA providers putting personalised information about their customers' interest rates on their statements
To address these concerns cash ISA providers agreed to:
comply with new industry guidelines, which came into effect on 31 December 2010, to complete end-to-end transfers within 15 working days
provide personalised interest rate information on cash ISA statements delivered in electronic and/or paper form by early 2012
This led to the FSA amending its Banking: Conduct of Business sourcebook to refer to the new transfer guidelines and to state that firms should put interest rates on statements they issue.
The OFT review published in March 2012 showed that 93% of cash ISA transfers carried out in 2011 were completed within 15 days and providers were now back-dating interest if the transfer is delayed beyond this. This has remained high, with 95% of transfers in October 2013 still happening within this 15 day limit.
Payment protection insurance (PPI)
Citizens Advice made a super-complaint to the OFT in 2005 arguing that:
consumers pay an excessively high price for payment protection insurance (PPI)
the protection consumers buy is partial, with many policies unreasonably excluding common causes of credit default
consumers are frequently mis-sold PPI, with evidence of high pressure and unfair sales tactics
the administration of PPI claims can be slow and unfair, and can leave consumers facing additional charges or serious debt enforcement action
The OFT launched a market study into PPI, and referred the PPI market to the Competition Commission for further investigation. The FSA was already carrying out a thematic review of the PPI market, later fining numerous businesses for mis-selling and PPI failings.
The Competition Commission investigation led to a ban on PPI being sold at the point of sale of credit. Full details can be found on the OFT website.
Image by LendingMemo on Flickr. Used under creative commons.
Published 19 December 2013