World news story
Finance Public-Private Partnerships - Workshop
The British Embassy Bamako hosts a workshop on Public-Private Partnership on 27-28 January 2016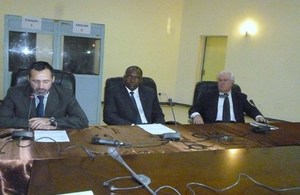 The British Embassy Bamako, in collaboration with the Malian Ministry for the Promotion of Investments and Private Sector, organized a workshop on "Funding Public-Private Partnerships Projects", on 27-28 January 2016.
The objectives of the workshop were to contribute to capacity building on Public-Private Partnerships and fostering of this type of funding which has proved its efficiency across the world.
Created in the United-Kingdom, Public-Private Partnership (PPP) are a type of funding through which a Government collaborates with private partners to fund and manage a public service.
This high-level workshop focused on the different types and structures of PPP financing, legal aspects of contracts and risk management.
The workshop was hosted by John DAVIE, President of Altra Capital, expert in PPPs and former president of British Expertise International.
Published 16 February 2016