World news story
Finance opportunities in the UK for Catalan Life Science companies
Delegates from the Catalan Life Sciences and Venture Capital sectors came together for the "Finance Biotech Breakfast" organised by UK Trade & Investment (UKTI) in Barcelona.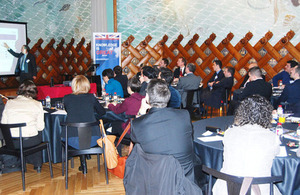 Representatives from innovative areas across the healthcare and biotechnology industries learnt about funding opportunities, both public and private, in the UK´s Life Sciences sectors. Also within specialised venture capital and business services providers to the Life Sciences sectors.
Andrew Gwatkin, the UK´s Consul General in Barcelona, highlighted that:
The UK is an excellent place to do business and in the Life Sciences sector there is funding available.
In the UK the Life Sciences industry accounts for 165,000 UK jobs and over £50 bn of turnover.
Biocat, Caixa Capital Risc, and Parc Cientific de Barcelona, highlighted the leading position that the Barcelona region maintains across the Life Sciences industries.
The main presentation was given by Dr Mark Treherne, CEO of the UKTI Life Sciences Investment Organisation (LSIO), who explained the UK government´s commitment to rewarding innovation and the UK´s strengths in Life Sciences. He described funding initiatives available from the Technology Strategy Board, along with the landscape for private funding in the UK including the strong venture capital community.
UK firms such as Schofield Sweeney and Oury Clark presented on the legal perspective on establishing a business in the UK, and on practical accountancy support when setting up in the UK.
The UK is one of the leading business locations in the world:
The number 1 destination for inward investment (FDI) in Europe
Easy to set up a business: it takes an average of 13 days and as little as 24 hours to register a company
Current corporate tax rate of 24 per cent is being reduced to 21 per cent by 2014 and then to 20 per cent by 2015
Flexible labour market
The UK is the largest financial centre
Jessica Griffiths, Senior Trade and Investment Advisor at UKTI Barcelona, explained how UKTI can help Spanish companies open a delegation in the UK through:
offering links to UKTI network of contacts in the UK
providing a range of practical advice, and
helping UK companies succeed in the Spanish market: market research, organising meeting programs and setting up events
There is an increasing interest in the UK´s dynamic Life Sciences sector and collaboration between Catalonia and the UK in this sector.
Contact: UK Trade & Investment team in Barcelona is keen to sustain this momentum and to drive forward future growth.
Email: uktibarcelona@fco.gov.uk
UK Trade & Investment works with UK-based businesses to ensure their success in international markets, and encourages the best overseas companies to look to the UK as their global partner of choice.
Published 12 December 2013