Press release
Final week to have your say on A404 Bisham roundabout improvements
Drivers, business owners and people who live near the A404 are being encouraged to have their say on plans to improve a busy road junction near Maidenhead in West Berkshire.
This news article was withdrawn on
This press release is no longer current.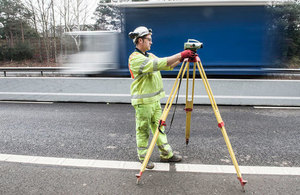 A public consultation on three options to improve the Bisham Roundabout junction near Maidenhead will end on Saturday 12 September.
The Bisham roundabout lies on the A404 between the M4 and M40 near Maidenhead in Berkshire and suffers from significant congestion at peak times.
Three improvement options have been identified for the junction, each with particular benefits, and Highways England wants to understand what people think of them. The options are:
Option 1: partial signalised roundabout (a roundabout featuring traffic lights on some but not all of the entry and exit roads)
Option 2: left in/left out (a system which would not allow right turns from Bisham)
Option 3: signalised junction (a roundabout with traffic lights on all entry and exit roads)
The 12 week consultation began on Friday 19 June.
Letters have also been sent to over 4,500 residents, businesses and stakeholders in the area. There were also 2 public exhibitions, at which members of the public were able to look at the different options and discuss them with representatives from Highways England and its contractors.
Surinder Bhangu, Highways England asset manager said:
The A404 is an important corridor between the M4 and M40 as well as for those who live and work in Bisham, Marlow, Maidenhead and beyond.

We're strongly urging local residents and businesses to take this opportunity to get involved in this public consultation before it ends. We hope to get as much evidence and input as possible to help feed into the ongoing scheme development.
More information about the plans and the consultation response form are available on the scheme web page
General enquiries
Members of the public should contact the Highways England customer contact centre on 0300 123 5000.
Media enquiries
Journalists should contact the Highways England press office on 0844 693 1448 and use the menu to speak to the most appropriate press officer.
Published 3 September 2015