Final tile laid in London 2012 pool
Paralympic gold medallist Liz Johnson has laid the final tile in the Aquatics Centre competition pool.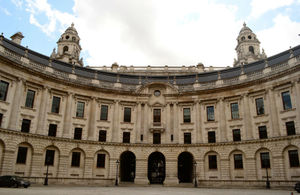 The swimmer visited the centre for the first time and completed the work on the pools to mark 500 days until the London 2012 Paralympic Games.
The countdown to the opening ceremony of the Paralympics reached the milestone on Sunday and a number of events to celebrate Paralympic sport in the coming months have been announced.
Ms Johnson said: "With just 500 days of training and preparation to go until the Paralympic Games open it's great to see firsthand where I hope to be competing and to play a very small part in building it. You can really imagine what the atmosphere will be like in 500 days' time in such a fantastic venue. I can't wait to compete at the Aquatics Centre in front of thousands of fans and it's great that it will be available for everyone to use once the Games have finished."
About 180,000 tiles have been used to line the 50 metre competition and training pools and the dive pool.
The Aquatics Centre, which will be the second biggest venue on the Olympic Park and the main gateway to the Games, is on track to complete this summer. After the Games, it will become a 2,500 capacity venue with two 50 metre swimming pools, a diving pool and a dry diving area for the use of the public and elite swimmers.
Dennis Hone, Chief Executive of the Olympic Delivery Authority, said: "The Aquatics Centre is on track to be a great sporting stage for the world's best athletes in 2012. After the Games it will become a fantastic new flexible and accessible facility for swimmers and divers of all ages and abilities."
Further information
Published 18 April 2011