Final curtain for unitary plans in Suffolk, Norfolk and Devon
Restructuring of councils in Norfolk, Suffolk and Devon that ministers called 'wasteful and unnecessary', will not go ahead now that the Local…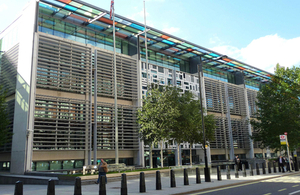 Restructuring of councils in Norfolk, Suffolk and Devon that ministers called 'wasteful and unnecessary', will not go ahead now that the Local Government Bill has received Royal Assent.
The Coalition Government introduced an urgent Bill in May to stop plans to create unitary councils in Exeter and Norwich. Ministers said the costs of the reorganisation to the taxpayer, estimated at £40m, could not be justified at a time when the whole country was reducing public spending to tackle a legacy of debt.
Councils are being asked to do more for less as the Government tackles an unsustainable public deficit to ensure economic recovery. Ministers believed the unitary plans would have diverted time and money away from protecting frontline services.
The Local Government Act 2010 brings to an end the present round of local government restructuring in Suffolk, Norfolk and Devon, began by the previous administration, by preventing the implementation of the proposals to create the new unitary councils.
Councils across the country have been given new powers and financial freedoms. The Government is urging them to focus on making efficiencies by sharing back office functions, improving procurement and using transparency to cut waste.
Communities and Local Government Secretary Eric Pickles said:
It was important that this piece of legislation was passed so that taxpayers' money was not wasted on an unnecessary council reorganisation imposed in Exeter and Norwich by the previous Government. The Royal Assent to this Act finally puts a stop to what would have been an expensive and unnecessary distraction.

At a time when every council needs to be focused on frontline services and savings, as we tackle a legacy of public debt, spending £40million on a unitary restructuring would have been reckless and wasteful. Councils in Norfolk, Devon and Suffolk can now get on with the crucial business of using their new freedoms and flexibilities to protect frontline services.
The independent Boundary Committee recommended last December that the unitary plans for Exeter and Norwich should not be implemented. There were concerns about affordability, the risk of fragmenting local services, and the lack of widespread local support.
Councils in Suffolk had also been asked to establish a county constitutional convention to reach a consensus on a unitary structure for Suffolk.
Notes to editors
The October 2006 Local Government White Paper invited councils to submit proposals for unitary restructuring. In January 2007, Exeter and Norwich City Councils and Ipswich Borough Council submitted proposals. The then ministers judged that these did not meet the full criteria, and in 2008 asked the Boundary Committee to look at alternative proposals for the whole or part of Devon, Norfolk and Suffolk.
The Boundary Committee provided their advice in December last year recommending a single unitary council for Devon, a single unitary council for Norfolk, and made two proposals in Suffolk - a single unitary council for Suffolk (the Committee's preferred option) or a two-unitary pattern comprising an Ipswich and Felixstowe authority and a Rural Suffolk authority. This was followed by a six week period of representations about the advice and the original proposals from the city and borough councils.
The then ministers received over 2,700 representations and had meetings with many of the councils concerned and MPs for the areas. They concluded that the Boundary Committee's recommendations for Norfolk and Devon did not have the support of any of the areas' principal councils and they decided to take no action on the Committee's proposals for those councils. Whilst acknowledging that the original proposals for Exeter and Norwich did not meet all the criteria, the then ministers decided nevertheless to go ahead with them and create unitary councils for those cities from 1 April 2011.
This decision was challenged and overturned in Judicial Review proceedings by Devon and Norfolk county councils in July 2010. The Act brings final certainty.
In Suffolk, the then ministers concluded that none of the proposals commanded support from all the Councils, and the previous Government proposed a County Constitutional Convention comprising the principal local authorities in Suffolk and their MPs to reach a consensus on a possible unitary solution.
Twitter
Keep up to date with the Department by following us on Twitter (external link).
Media enquiries
Visit our newsroom contacts page for media enquiry contact details.
Published 16 December 2010