World news story
Filipinos experienced UK in Manila
The British Embassy Manila held its annual Great British Festival on 24-26 February as part of the GREAT campaign in the Philippines.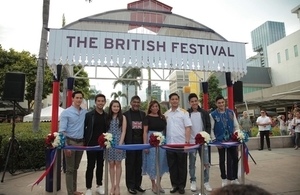 The British Embassy Manila brought the biggest foreign street festival in the Philippines at the Great British Festival on 24 to 26 February. More than half a million Filipinos enjoyed the best of British culture in a great weekend of live music, fashion, food and arts.
British Ambassador Asif Ahmad said:
Filipinos already know our famous landmarks. We want to share more of our secret to success – culture, people, and continuing openness to the world. Most Filipinos already know about the culinary delights of places like Borough Market and the fashion from our great designers and retailers. We also want our Filipino friends to experience the look and feel of different markets all over the country. Every city in the UK has weekday and Sunday markets. Villages have local produce on show. Street performers and people watching are also vibrant elements of our markets.
This year's Great British Festival was focussed on the importance of street markets in British life. There were food, fashion, cars and other great displays of British excellence. At the Main Stage, British creativity was infused with Filipino talent, with electrifying performances from Filipina group and X Factor UK finalists 4th Impact, Rockaoke contest finalists and other musical acts. Meanwhile, fashionistas enjoyed the latest summer trends on opening night, at the fashion show with top British brands.
Students had the chance to speak with Chevening Alumni and see how British education can be a life-changing experience at the Education Pavilion. Best of all, 6 lucky raffle winners took home round trip tickets to the UK courtesy of Etihad Airways!
Visit the British Embassy Manila's official Facebook page to watch the highlights of the event