World news story
Fiji to host UK-sponsored regional course on enforcing Exclusive Economic Zones
The Royal Navy is conducting a regional course on enforcing Exclusive Economic Zones (EEZ) in Fiji from 20 to 24 April, 2015.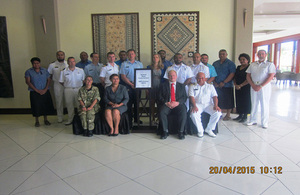 The course is being held at Sofitel Resort in Nadi and attended by participants from Fiji, Tonga, Samoa, Solomon Islands and New Zealand.
The course will look at environmental, humanitarian and enforcement factors as well as international laws and requirements, whilst sharing experience on how the UK addresses such issues. International Maritime Law, Fishery protection, the role of the Maritime and Coastguard agency, search and rescue, customs and counter smuggling, oil spill response and vessel traffic services are some of the 22 topics that the course will cover.
Major Shelly Woodman will conduct the course which was officially opened by the Acting High Commissioner, Mr Daniel Salter today, Monday 20 April at 09.00 am at Sofitel Resort in Nadi.
Published 20 April 2015