World news story
Fighting continues in South Sudan
Conflict persists in South Sudan as the Addis Ababa peace negotiations continue to strive for an agreed cessation of hostilities. The UK warns against all travel to South Sudan.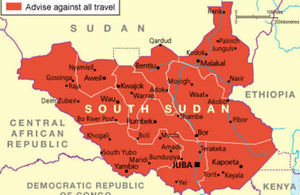 The situation in South Sudan is deeply concerning, with conflict continuing in parts of the country and high numbers of reported deaths. The Foreign Secretary has spoken to President Kiir and Former Vice President Machar to urge them both to commit to an immediate ceasefire.
Current mediation efforts are focused on IGAD-led discussions in Addis Ababa, which the UK fully supports. Along with our Troika (US and Norway) colleagues, and other international representatives, the UK is pushing for an immediate agreement to a monitored cessation of hostilities. The UK urges both parties to engage constructively in these negotiations, in order to achieve the peace that all South Sudanese people deserve. Regional parties such as Ethiopia have played a central role in attempting to mediate a resolution and the Foreign Secretary has spoken to Ugandan President Museveni and Ethiopian Prime Minister Hailemariam to make clear the UK's ongoing support for these negotiations.
The humanitarian crisis resulting from the conflict is very concerning - the latest UN reports indicate that over 400,000 people have been displaced from their homes: in fact the total number is likely to be higher. A humanitarian response is underway, but is severely constrained by insecurity in many locations. The UK is working to ensure that humanitarian assistance reaches those that need it the most and calls on all parties allow unfettered humanitarian access to those in need and to respect the independence, impartiality and neutrality of humanitarian personnel. The Department for International Development has made additional resources available, recently releasing £12.5m to provide emergency humanitarian supplies, of which £6.5million will be used to support key humanitarian agencies operating in the country. A UK-funded emergency relief flight carrying life-saving water and sanitation equipment landed in South Sudan on 5 December.
Reports of human rights abuses in the country are deeply disturbing, particularly those that suggest an ethnic dimension to the violence. We welcome efforts by UNMISS to investigate these allegations and fully support the intent of the AU Peace and Security Council to establish a Commission of Inquiry. While we welcome Sudan People's Liberation Army's announcement that they will investigate the involvement of organized forces in killing civilians in Juba, it is very important that any such review is carried out independently.
The UK current recommends against all travel to South Sudan due to the ongoing insecurity. We urge all British nationals remaining in country to leave the country if they can do safely. Please visit our Travel Advice Page (insert link) for full guidance. British nationals choosing to remain in South Sudan should remain alert to the local security situation, monitor the media and stay in a safe location.
The British embassy in Juba remains open. However our current ability to provide consular assistance is limited by security constraints and reduced staffing of the Embassy.
For consular enquiries please contact the Foreign & Commonwealth Office in London on 020 7008 1500.
Further Information
Read the Travel Advice for South Sudan
Follow British Embassy in South Sudan on twitter
Follow British Embassy in South Sudan on facebook
Published 16 January 2014