News story
Fifty days for businesses to register with carbon-cutting scheme
With just 50 days to go until the end of registration for the Carbon Reduction Commitment Energy Efficiency Scheme (CRC), Greg Barker is calling…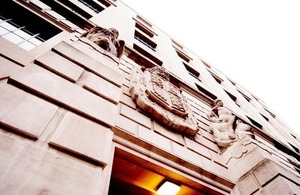 With just 50 days to go until the end of registration for the Carbon Reduction Commitment Energy Efficiency Scheme (CRC), Greg Barker is calling on the remaining organisations to register now.
Currently 1229 of the organisations required to register have done so.
Launched in April 2010 the CRC requires large public and private sector organisations to register with the Environment Agency by 30th September 2010.
Greg Barker, Energy and Climate Change Minister, said:
"This new Coalition Government wants to boost energy efficiency in business because we know that saving energy saves money. The CRC will encourage significant savings through greater energy efficiency and importantly will make carbon a boardroom issue for many large organisations.
"My message to businesses today is to register now. I understand the original complexity of the scheme may have deterred some organisations and I want to hear suggestions as to how we can make the scheme simpler in the future."
The London Fire Brigade is one organisation that has registered for the CRC. Energy efficiency projects put in place by the Brigade have led to savings of £260,000 in 2009/10 and over £1 million since the Brigade started focusing on the need to be greener. Despite the organisation growing overall carbon emissions on their buildings are down by over 18% on 1990s' levels.
Greg Barker visited Westminster Fire Station this month to meet firefighters and see some of the measures recently installed to improve the station's energy efficiency.
Chairman and leader of London Fire and Emergency Planning Authority, Councillor Brian Coleman AM, FRSA, said:
"This isn't just about protecting the environment, it makes excellent business sense. Last year we saved the taxpayer over a quarter of a million pounds by making our fire stations greener and reducing our energy bills."
The CRC will help to ensure that organisations play their full role in contributing to the UK's emissions reductions of at least 34% on 1990 levels by 2020 through improved energy efficiency.
Notes for editors
Organisations that want to feed in thoughts on how to make the CRC simpler can email crc@decc.gsi.gov.uk

Images of the fire station visit can be found at www.flickr.com/deccgovuk

The below organisations fall within the remit for CRC and would be happy to be contacted for media purposes;
GUY'S AND ST THOMAS' NHS FOUNDATION TRUST
Press Office contacts 020 7188 5577 or email: press@gstt.nhs.uk
THE NATIONAL THEATRE
Press Office contact details: 020 7452 3235 or email: press@nationaltheatre.org.uk
LONDON FIRE BRIGADE
Press Office contacts: 020 8536 5922 or email: robert.mctaggart@london-fire.gov.uk
CRC is a UK wide scheme and the policy has been developed by the Department of Energy and Climate Change, the Scottish Government, the Welsh Assembly Government and the Department of the Environment Northern Ireland.

The CRC will have a significant impact on improving energy efficiency saving participants money and reducing the UK's carbon emissions. The scheme is mandatory and will save participants around £1billion per year by 2020 through cost effective energy efficiency measures that are not yet being taken up.

Analysis of the large private and public organisation sector by the Carbon Trust found significant potential for cost-effective emissions reductions through energy efficiency. Their recent analysis of the non-domestic building sector suggests 70-75% reductions could be made by 2050 at no net cost using options which exist today.

All organisations that had at least one half hourly meter settled on the half hourly market in 2008 are required to act under the CRC. Government estimates indicate that around 20,000 public and private sector organisations will be required to participate in some way. The majority of these will simply be required to make information disclosures about their electricity usage.

Around 5,000 organisations will be required to participate fully. This means they must not only record and monitor their CO2 emissions, but also purchase allowances equivalent to their emissions each year.

The registration window for CRC began in April 2010, and lasts until the 30th September 2010. Participating organisations will have to register with the Environment Agency who will administer the scheme.

Eligible organisations that fail to register with CRC before 30th September 2010 may be fined. The fine is currently set at a fixed fine of £5,000, then an additional £500 for each subsequent working day they fail to register, for a maximum of 80 working days, together with a publication of non-compliance.

Westminster Fire Station - The energy reduction initiatives at the station include Motion sensor lighting, so lights are not left switched on in an empty room, voltage reduction measures and remote monitoring of the heating and hot water to reduce waste. The station has also had draught proofing, secondary glazing and timers that switch off TVs and printers.

You can find further information at www.decc.gov.uk/crc Guidance for scheme participants has been published by the Environment Agency. You can visit the Environment Agency website at http://www.environment-agency.gov.uk/crc or contact crchelp@environment-agency.gov.uk for more information.
Published 11 August 2010