Festive workers pledge £10k to good causes
Generous workers at Dounreay have pledged a staggering £10,000 to good causes in the run up to Christmas.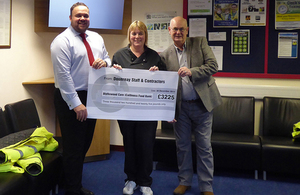 Caithness Foodbank received a welcome boost this week when a cheque for £3,225 was handed over after donations were collected during the site's festive lunches. More than 1,500 meals were served on site this year as part of an annual Christmas treat from the company in charge of decommissioning the site.
Dounreay Managing Director Phil Craig said:
"I continue to be bowled over by the generosity of our team. A number of worthwhile charities were nominated and the workforce chose Caithness Foodbank. It feels appropriate that our lunches will now help others get the food they need in our community this Christmas."
Grant Ramsay, Chair of Caithness Foodbank, added:
"The volunteers of the Caithness Foodbank are overwhelmed by the generosity of the Dounreay staff and this substantial donation will go a long way in providing the support over the coming year for those in need within our community."
The foodbank recently reported that demand had hit record levels, with 14 tonnes of food handed out to 1,341 people in the far north over the last 12 months.
Workers have also been digging deep in recent weeks to support Crohn's and Colitis UK and Caithness FM Toy Appeal. Events including a Christmas jumper day, bake sale and raffle have all helped bring the site's fundraising total to around £10,000 in the run up to Christmas and more than £15,500 in total for 2017.
Published 21 December 2017