World news story
Fellows' visit at the British Embassy Budapest
The embassy welcomed participants of the Professional Fellowship Programme for Multiply-Disadvantaged People.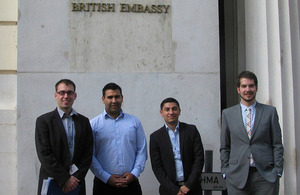 In August 2013 the British Embassy in Budapest participated in the US Embassy's Professional Fellowship Programme for Multiply-Disadvantaged People for the sixth time.
Members of the fellowship, which is open to the Hungarian Roma, visited the embassy building and met colleagues of its UK Trade and Investment, Corporate Services section, Press and Public Affairs and Events and Visits teams. They concluded their tour by meeting the embassy's Head of Policy Team and its Deputy Head of Mission. During their visit, members of the British embassy briefed the fellows of their work and experiences at the diplomatic mission and answered a wide range of questions.
The British Embassy in Budapest is an active supporter of human rights, including Roma rights. In June 2013 Jonathan Knott travelled to the heavily Roma populated Szentrőlád to view the work of the embassy sponsored Roma Police Union in the region and to visit a Roma cultural centre and a mushroom farm run by a local Roma NGO. Also in June 2013 Deputy Head of Mission Theresa Bubbear delivered bags of clothes, books and toys to community builder Beginning to End Roma organisation thereby helping their recently launched children and education programmes.
Published 5 September 2013